Secession group takes next step towards smaller district with 6,137-signature petition
Teachers express strong opposition to district change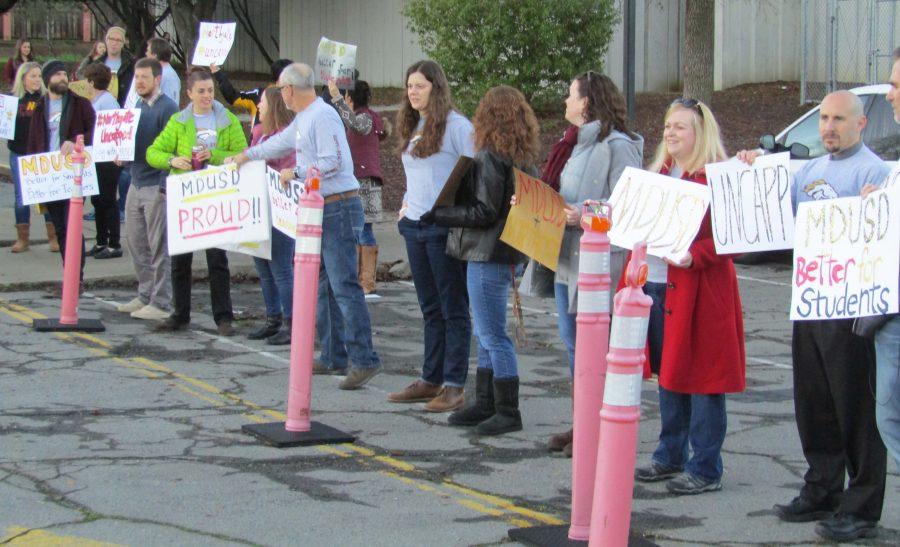 For months, controversial national politics have filled the minds of Americans, but a few weeks ago, local politics took the spotlight at Northgate High School. Northgate CAPS (Community Advocacy for Public Schools), a parent organization trying to separate Northgate High School and four other schools from the Mt. Diablo Unified School district, is one step closer after filing a formal 6,137-signature petition that could lead to putting the issue on a local ballot.
NCAPS is engaged in a two-year long effort to separate Northgate, Bancroft, Valle Verde, Walnut Acres, and Foothill from their current district of MDUSD, to form a five-school Northgate Unified School District (NUSD).
After verification of the petition signatures by the County Superintendent of Schools, the next steps are two months of review and input, possible approval by the State Board of Education, and a possible ballot issue.
Meanwhile, a majority of Northgate staff members say they oppose the separation and they made their concerns clear in a high-profile demonstration in January.
On Jan. 13, students and parents on their way to school were greeted by a group of teachers standing near the drop-off zone, carrying signs that read, "I Love Diversity", and "MDUSD Better for Students". About 50 teachers, staff, and community members gathered to protest the proposition to move Northgate from its current district, MDUSD, to a new district, the Northgate Unified School District.
Teachers are not only satisfied but pleased with the direction of their current district.
"Northgate is thriving currently in part because of the support we get from the district. Students here are already doing extremely well overall, and teachers here are already currently happy with their employer," said drama and English teacher Jeff Hagerstrand.
"NCAPS offers no revolutionary educational ideas, they just want to take over," Hagerstrand said. "They have yet to show any evidence that their idea is better than how things are now, and since they are the ones making the suggestion, the burden to prove they have better ideas is on NCAPS. They have failed."
Science teacher Melanie Scott fears the loss of invaluable programs and staff.
"The new district would have to re-staff much of the school. This could compromise our current programs, including athletics, performing arts, Link Crew, as well as academics as a whole," said Scott. Scott has a unique connection with Link Crew, as she is part of a group of teachers who started the program as a way to promote community, inclusion, and to integrate freshmen into the school.
Northgate CAPS maintains a new district is needed to better serve students.
"MDUSD is too big to function effectively," organizer Linda Loza said in a statement. "A smaller district will mean more responsiveness to the community, a greater ability to serve the need of the students, more accountability to all stakeholders, and the opportunity to increase student achievement."
Teachers say some of the their opposition surrounding this issue stems from their belief that the proposed secession will impact diversity of Northgate and the new Northgate district.
The five seceding schools have the highest percentage of Caucasian students as well as the highest household income in the entire MDUSD. Northgate's population is nearly 60 percent Caucasian with 9 percent of students qualifying for free/reduced lunch under the National School Lunch Program.
On the other hand, other schools in MDUSD like Mount Diablo High School are predominantly composed of minorities and low income families, with 60 percent Hispanic students and 77 percent of students eligible for free/reduced lunches, according to StartClass.
"We are the richest, whitest school in MDUSD," drama teacher Jeff Hagerstrand explained, and the change would only increase Northgate's socioeconomic imbalance. "NCAPS proposes building a wall – figuratively – between our neighborhoods and the surrounding neighborhoods, all of which are less affluent and more diverse."
Reference to a "wall" alludes to opponent's concerns that the new district would not allow for inter or intradistrict transfers of students from other parts of the current district or county, affecting current diversity.
"While I don't believe NCAPS set out to be racist," Hagerstrand continued, "this proposed secession would be a racist action. I believe that NCAPS is dividing our
community with this unnecessary power grab, and that their efforts send a very negative message to students of color and to students who aren't wealthy."
Scott also spoke to this issue of racial division. "Although I have not directly heard anyone from Northgate CAPS make statements about race playing a role in this process, I have seen social media posts from NUSD supporters that have said they don't want their kids to go to school with 'those kids from Concord' and 'keep the Pittsburg kids out of Northgate'."
Scott spoke to the right of lower income and minority students to obtain an education in a well-performing school like Northgate. "These are kids who transfer to Northgate from other area high schools to get an education in a great school," said Scott. "What right does anyone have to deny this to them because of where they come from or what they look like?
"Diversity allows our students to learn from each other, to establish common ground, to work together despite racial, ethnic, or socio-economic backgrounds," Scott explained, "and I believe it would be a disservice to our students if NUSD has intention to decrease diversity at Northgate.
"There is enough discrimination and division in our country as it is," Scott said. "We should be teaching our students and our own children that this sort of division does not need to exist if the differences between each person can be embraced and used to work together rather than drive people apart."
Loza of NCAPS stated that the effort is not driven by race segregation but by increasing overall performance in both NUSD and MDUSD, by creating a smaller, more efficient district.
"MDUSD's students in poverty, English learners, and students with disabilities perform below County and State averages," said Loza on the group's website. "We believe this campaign offers a first step in getting MDUSD down to a manageable scale, where it can perform better, for all students…We anticipate a positive fiscal impact on the remaining students within MDUSD."
Hagerstrand implores the community to become informed. "My hope is that parents, students and community members ask probing questions about NCAP's plans regarding their finances and budget, future fundraising, parcel taxes, what the ask-per-student will be each year, what the impact on special ed programs will be, and what the impact on the socio-economic makeup of NUSD will be," said Hagerstrand.