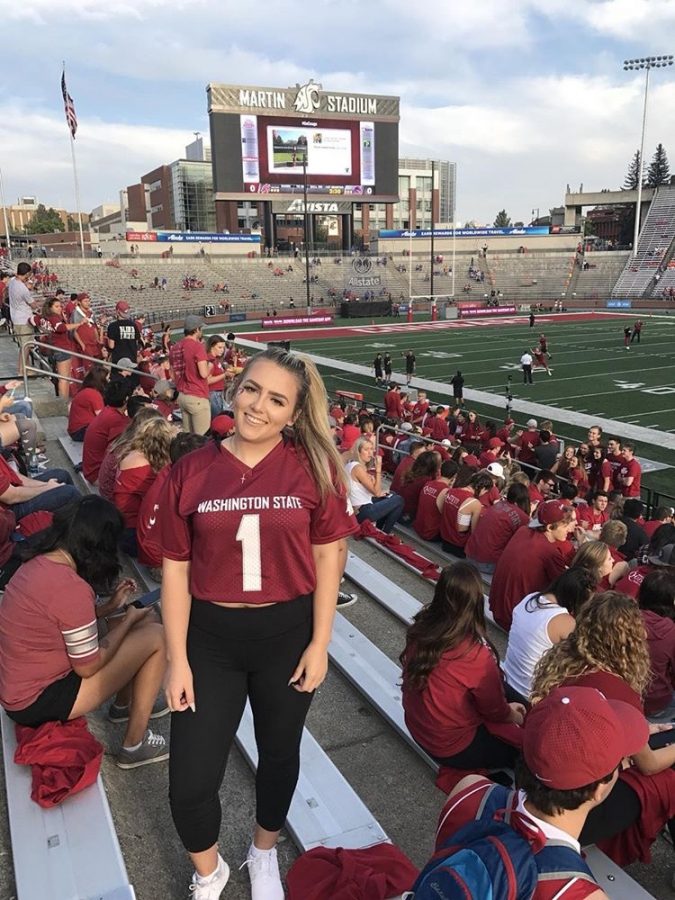 Jenna Pouch
Jenna Pouch, a Northgate alum, was able to put her emergency skills to the test on Nov. 17 on her flight back to Washington State University in Pullman. The 2017 graduate, who took two years of Sports Medicine, helped a young man in a medical emergency, who survived.
Sports Medicine instructor Glen Barker said he is not surprised one of the program's past partcipants was able to transfer emergency skills to the real world.
"There have been numerous occasions – car accidents, and situations in college dorms involving alcohol poisoning. Students have taken charge, and some of my previous students have gone on to work at NFL professional camps," Barker said.
Pouch responded to the Sentinel's request to share her experience.
Describe the event on the airplane.
I was sitting in the window seat and the guy next to me about my age fell out of his seat into the aisle. He then started seizing uncontrollably and snarling. I knew that he was having a seizure. After his episode ended he began to throw up. I waited until he was fully conscious before I asked if I could help him up.
How did you know what to do?
Although we don't really cover seizures in Sports Medicine, I applied treatment for shock and choking after the patient had become stable and could communicate to me. I swept anything obstructing his airway out of his mouth and once he was stable I asked four other guys around me to help lift him to the back of the plane until we landed and professionals could help.
What was your initial reaction?
At first I wasn't quite sure why he had fallen out of his chair so I was watching to see if he would do anything. After I knew it was a seizure, the flight attendants started screaming for anyone with medical training and I asked if they knew first aid and they said no, so I stepped in to help.
Was that the first time you applied emergency skills outside of school?
I have helped people who have fainted before and I assisted (Northgate history teacher) Ms. Lahey when another student had a seizure in my psychology class during my junior year, but I was never hands-on.
Did you hear any follow-up?
About a week or so later, Alaska Airlines emailed my dad and refunded my flight as a thank you for my service.
How is college and what is your major?
College is going great so far. I am going into nursing. Go Cougs!
Pouch's former instructor said he is proud of her.
"It makes me feel great because she was able to save someone's life, and this is not the first Northgate Smed student over my career, to help someone. It doesn't surprise me that she, a Northgate football trainer, was able to take charge in a plane filled with mostly adults," he said.
"This program is renowned for its ability to save lives across the United States and across the world."