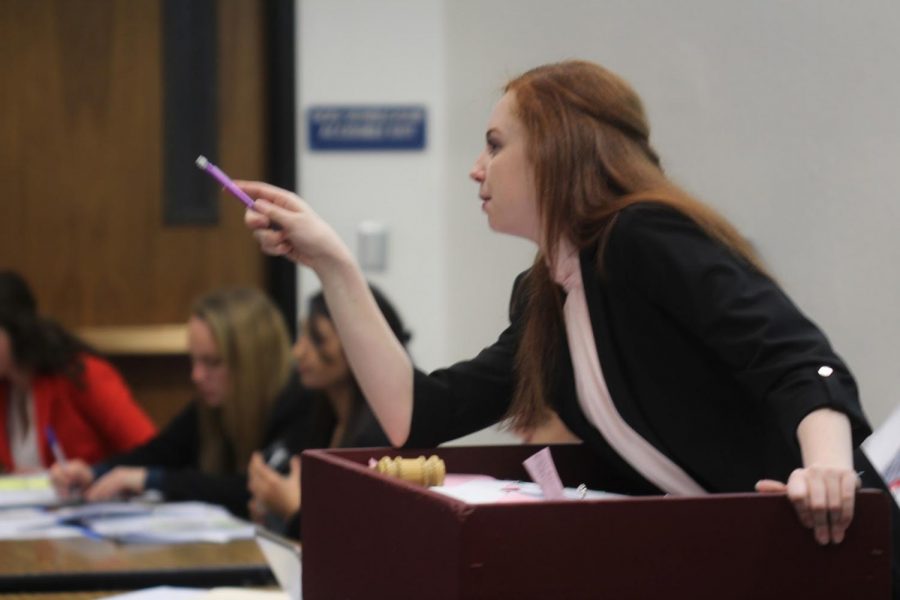 In a week marked by a U.S. Justice Department report on foreign interference in the 2016 presidential election and pending impeachment charges against President Donald Trump, members of the Senate still managed to approve dozens of bills Dec. 10 and Dec. 11. 
This accomplishment did not take place in the U.S. Senate or the California State Senate, but the five legislative bodies of Northgate High School-the Blue, Red, White, and the Stars and Stripes Senates where Northgate's seniors simulated all aspects of the legislative process.
In five different locations throughout the school ranging from the Little Theater to the Lecture Hall, they approved legislation in two action-packed days of deliberation that provides social and health services to people, aids small farmers and supports social justice issues.
Students said afterwards the event was a highlight of high school, and one that opened doors for communication about many issues.
"People have more differing opinions than we are raised to believe," said Jon Wake, who participated in the White Senate. His bill, which proposed funding for non-embryonic stem cell research, made it to the Senate and was passed. "Until Mock Congress, I thought people thought the same way, but I was wrong. It was refreshing." 
Northgate began incorporating Mock Congress into its government curriculum around 35 years ago, but the event is not unique to this school. The concept of Mock Congress in High Schools was created in 1887 by at school teacher at Shortridge High School in Indiana. Since its creation, Mock Congress has been incorporated in the curriculum by numerous renowned institutions such as Harvard University, Columbia University, Yale University, UPenn, and Rutgers University.
Government teacher Jon Burchett, who has been instrumental in keeping Mock Congress running, described how it has evolved since he has been a part of it. "Mock Congress has changed significantly since I've been here. When I started, we had one Senate and a House of Representatives, and everyone was only allowed to speak twice, with a big speaking list," he said. "Since then, we've made many, many changes over the years. This year we've changed it to make the president pro-temp position a separate non-partisan role in light of events last year."
Students saw bills regarding nuclear energy funding, embryonic stem cell research, and homeless aid passed, often with added amendments, pauses for lobbying or even filibusters. Students got heated in these political debates and were able to observe first hand the excitement and controversy of being in Congress. 
"One bill on electric cars and tax deductions that was good," said Jafer Noorani, who participated in the Red Senate. "It gave tax deductions for electric cars," he said, "it's the future and our generation is going into the future."
Students also praised Mock Congress for the opportunity to e involved in a process, with many adding in what they learned and how it has helped them. "It gave me more respect for real Congress, and helped me understand why Congress takes so long to pass a bill," Garrett Smith said.
Although students learn and experience the process in their U.S. Government class, the entire Social Studies department supports and helps run the event. They say Northgate will continue to implement Mock Congress into its curriculum for years to come because of the benefits it has on how students interpret government.
"It's important for students to participate in Mock Congress because it's something that they experience," Burchett said. "It's just a different way of learning to experience it rather than just hearing about it, it's something that participates in and they have a certain amount of ownership over it.  It has been such a successful program throughout the years here for that reason."