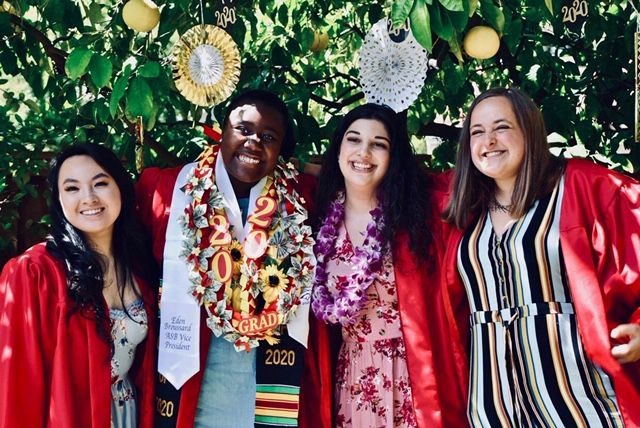 Courtesy of the Broussard family
Northgate's class of 2020 faced a challenging end to their kindergarten through senior year educational experience after school closed March 13. What was expected to be a two-week closure in response to the expanding worldwide pandemic caused by the Coronavirus eventually led to all students finishing the year working remotely on Google Meet or Zoom. Seniors lost some of the coveted rights of passage of high school seniors including a cancelled senior ball. However, they had not one, but two graduation celebrations.
Administrators and staff planned a two-day socially distanced ceremony on the sports stadium field June 2 and 3, with families celebrating their grads among red and gold balloons with plenty of photo opportunities during a span of about eight hours each day to accommodate county requirements of social distance. Additionally, seniors and their families enjoyed a pre-recorded virtual graduation ceremony complete with student speakers Tanay Pradhan and Stuti Pradhan, and the staff guest speaker voted on by seniors – librarian Rula Kassicieh – as well as musical performances. The virtual ceremony ended with the long-awaited highlight just as it would have had the event been held at the traditional venue of the Concord Pavilion: the booming voice of P.E. teacher Mike Ahn who (in a pre-recorded segment) announced the names of all 373 graduates loud and proud, as he has done for many years of Bronco ceremonies.
The following includes the 2020 graduates and their post-high school plans, as self-reported last spring. For any updates. corrections or input, please email the Sentinel staff at: [email protected]
2020 DESTINATIONS
UNITED STATES AIR FORCE 
Claire Denman 
Andrew Geckler
Dylan Rule
UNITED STATES ARMY
Autumn Geckler
UNIVERSITE DE MONTREAL, CANADA
Clemence Poret-Coirre
YORK ST. JOHN UNIVERSITY, ENGLAND
Diego Leon
TRADE SCHOOL
Tyler McCarter
THE BRIDGE PROGRAM
Gus Zepoleas
COMMUNITY COLLEGES
CONTRA COSTA COLLEGE
Jonathan Campbell 
DIABLO VALLEY COLLEGE
Sahra Ahmadzi
Sofia Alefi
Sophia Alvarez
Wais Azizi
Gina Bajalieh
Utkrisht Batra
Antonina Bazulin
Mason Bohmaker
Grace Britz
Nathaniel Burlison
Paula Caballero
Ethan Cain
Elijah Canlas
Chloe Chapman
Timothy Crnkovich
Karen Daza
Mathias Delgado
Sophia Dempsey
Alicia DiPiero
Lily Doran
Claire Drayton
Gavin Duque
Yusuf Eldesoky
Tanaz Espari
Francisco Espinoza
Grace Fenstermacher
John Finck
Victoria Fong
Kristina Fout
Dylan Gaiddon
Edith Garcia Campos
John George
Katelyn Ghorban
Jason Grinshpan
Rowan Halligan
Thien Huynh
Sierra Jenkins
Tyler Joe
Shayla Kaplan
Edward Kartamyshev
Alexa Killion
Julia Knapp
Mandy Kong
Brandon LaChance
Devin Lin
Gianna Lopez
Jiovanni Lopez
Noelle Lucas
Ahmad Malikzada
Martin Markov
Veronica Melendez
Isabella Molnar
Angelina Montosa
Anthony Moraga
Daphne Mullen
Isabella Musser
Kevin Myers
David Nakamura
Madena Nawabi
Daniel Nosovsky
Sean Dre Nuzum
Mateo Ogryczak Castillo
Marcus Juarez Omandam
Reem Osman
Jonah Pamplona
John Philippou
Gillian Pontanares
Steven Pule
Owen Pulver
Priya Raman
Siena Rassushin
Isaiah Reyes
Matthew Reyes
Connor Rhodes
Benjamin Richardson
Trevor Riley
Reanne Robiso
Stephen Rule
Diana Santana-Ando
Erlene Sarria
Ruby Sekera
Wahid Shafi
Taj Sodhi
Victoria Sular
Anne Tamura
Andrew Tran
Koby Uy
Sarah Uysal
Mia Vargas-Apalit
Gabrielle Verkhovski
Carlos Viana
Brandon Voss
LOS MEDANOS COLLEGE
Peyton Castleberry
Nicolas Whitacre 
SANTA BARBARA CITY COLLEGE
Megan Ritchie
UNIVERSITY OF CALIFORNIA
BERKELEY
Sriram Diyyala
Adrian Haynes
Sarah Ng
Pratyush Sharma 
Lark Chang-Yeh 
DAVIS
Catherine Dark
Divya Lakshmanan
Kacie Li
Leila Okhravi
Paree Saeed
Sofia Saraj
Peter Sawares
Brian Wong
Jennifer Yee
IRVINE
Andrew Liu
Daniel Notcovich
Tralena Tran
Jacob Trees
Tim Qiu
Kyle Suen
LOS ANGELES
Jade Gregory
Jonathan Moore
Tanay Pathare
Stuti Pradhan
Sydney Smith
Katharina Stahl
Rachel Stokel
Jonathan Wake
Kyle Walsh
RIVERSIDE
Eden Brossard
Sean Hauser
Scott Hazarian
Karl Lindeman
SANTA BARBARA
Samuel Arenson
Grace Corrigan
Vincent Cueno 
Victoria Greenberg
Sungyoon Hong
Allyson Jian
Sanjana Kannan
Madeline Kaplan
Sydney Kellum
Sydney Kupsch
Megan Ritchie
Aditya Singh 
Isabella Sri 
Luke Tobin 
Tessa Vesklar
Hanson Yu 
SANTA CRUZ
Cabot Batie 
Tess Beckon 
Milin Doppalapudi 
Ryan Dresden 
Ethan Leung
Zoe Siman-Tov
SAN DIEGO
Ashley Burke
Jacob Kell
Kaitlyn Farrell
Luke Saunders
CALIFORNIA STATE UNIVERSITIES
CAL POLY, SAN LUIS OBISPO
Reavis Blake
Piper Christensen
Paige Davis
Spencer Hagerstrand
Kevin Krueger
Rylie Lawrence
Shea McGowan
Joshua Moorhouse
Jasna Regehr
Sam Ricafrente
Emma Ronhaar
Cole Sanchez
Jacalyn Schick
Connor Shipman
Evan Tomlinson
Alexia Watson 
Arthur Yan
Phoebe Zyla
CAL POLY, POMONA
Richard Woo
Janis Yu
CHICO
Melissa D'Alberti 
Morgan Enos
Tyler French 
Pranav Gopalakumaran
Kelly Henderson
Shane Kaiper
Rune Lervaag
Andrew MacIntyre
Erin Matson
Dylan McMahon
Julie O'Mahoney
Aidan Roberts
Haley Roberts
Cameron Saeri
Natalie Sin
Isabel Valderrama
EAST BAY
Nikita Charsov 
FULLERTON
Matthew Swadener
LOS ANGELES
Alexander Kanaan
SAN DIEGO
Hadia Bayat
Lily Bender 
Karly Cesario
Moriah McCloskey 
Aubrey Stynes
Madison Stynes
Brendan Walker
Enrique Yokoyama 
SAN JOSE
Dennis Bayasgalan 
Jonathan Gazdar
Mark Habashy
SONOMA
Victoria Dimitrov
Aubrie Hunt
Jordyn Gemenes
Bridgette O'Connor
Jessica Wortman
PRIVATE CALIFORNIA UNIVERSITIES
ACADEMY OF ART UNIVERSITY
An Luu
BIOLA UNIVERSITY 
Abigail Cheung
Kara Chung 
CHAPMAN UNIVERSITY
Grant Sielman
Kai Welsh
DOMINICAN UNIVERSITY OF CALIFORNIA
Hooriya Shaghasi
HOLY NAMES UNIVERSITY
Leonard Garcia
Olivia Nicole Lee
LA SIERRA UNIVERSITY
Jinha Kim
LOYOLA MARYMOUNT UNIVERSITY 
Dominic Balestreri 
OCCIDENTAL
Olivia Loscavio
Elinor Taylor
POMONA COLLEGE
Eric Prough
SAINT MARY'S COLLEGE
Daylon Amin
Sonja Khamosh 
SANTA CLARA UNIVERSITY
Aidan Weitl
SIERRA NEVADA UNIVERSITY
Colby Lautrup
STANFORD
Jocelyn Thai
UNIVERSITY OF SAN DIEGO
Olivia Patterson
Isabella Bertolozzi 
Kylie Durham 
UNIVERSITY OF THE PACIFIC
Jafer Noorani
UNIVERSITY OF REDLANDS
Nathan Boswell 
UNIVERSITY OF SAN FRANCISCO
UNIVERSITY OF SOUTHERN CALIFORNIA
Matthew Giesecke
Theodore Wu 
OUT-OF-STATE COLLEGES/UNIVERSITIES
ACADEMY OF ART UNIVERSITY
Annaliese Murrieta
AURORA UNIVERSITY
Madison Hayes
ARIZONA STATE UNIVERSITY
Finn Garrison
Nicholas Gearing
Peter Modlin
Danielle Pecho
Daniel Polonsky
Garrett Smith
BEREA COLLEGE
Jooyeon Kim
BERKLEE COLLEGE OF MUSIC
Alexander Hussain
Ruhan Katre
BRIGHAM YOUNG UNIVERSITY
Logan Harlow
Miks Ramanis
Samiel Swingler
Jack Williamson
Olivia Wirig
CLEVELAND INSTITUTE OF ART
Elle Maraccini
COLORADO STATE UNIVERSITY, FORT COLLINS
Eva Smith
EMBRY-RIDDLE AERONAUTICAL UNIVERSITY
Stefano Paduan
HAMLINE UNIVERSITY, MINNESOTA 
Analisa Aragon 
INDIANA UNIVERSITY, BLOOMINGTON
Sean Suter
LEWIS AND CLARK UNIVERSITY
Margaret Levy
LOUISIANA STATE UNIVERSITY
Meikaylah Le Beaux
MCCALESTER UNIVERSITY
Isaac Owen
Nathan Wu
MARSHALL UNIVERSITY
Amaya Lee
NORTHERN ARIZONA UNIVERSITY
Cyrus Lennox
Jessica McCann
PURDUE UNIVERSITY
Oliver Shi
Neha Sunil
RHODE ISLAND SCHOOL OF DESIGN
Seoha Kim
RUTGERS UNIVERSITY
Cassidy Baumann 
SAM HOUSTON STATE UNIVERSITY
Keely Herzog
SETON HALL UNIVERSITY
Francis Lofranco
SOUTHERN OREGON UNIVERSITY
Liv Villanueva
TEXAS CHRISTIAN UNIVERSITY
Alexandra Miloradovitch 
UNIVERSITY OF ALABAMA
Paige Benson
UNIVERSITY OF ARIZONA
Shaye Khanna
Grace Zodikoff
UNIVERSITY OF CENTRAL FLORIDA
Madison Malakoff
UNIVERSITY OF COLORADO, BOULDER
Aynsley Burlison 
Cassandra Parrisher
UNIVERSITY OF CONNECTICUT
Michael Dulay 
UNIVERSITY OF DENVER
Isabella Samardzic
UNIVERSITY OF HAWAII
Savannah Light
UNIVERSITY OF MIAMI
Ciera Edejer
UNIVERSITY OF MIAMI, FROST SCHOOL OF MUSIC
Ethan Pires
UNIVERSITY OF NEVADA, RENO
Emily Shaon
Madalyn Stewart
UNIVERSITY OF NORTHERN COLORADO
Riley Mendonca
UNIVERSITY OF OREGON
Brian Berger 
Brian Burke 
Anthony Giannini
Caitlin Reimer
Jasmine Wong
UNIVERSITY OF TENNESSEE
Tyler Johnson
UNIVERSITY OF TEXAS, DALLAS 
David Allen 
UNIVERSITY OF PORTLAND
Josie Boswell 
Jayme Schick
UNIVERSITY OF UTAH
Kyle Adelberg
Kyleigh Cassidy
Natalie Kenney 
UNIVERSITY OF VERMONT
Grace Decker 
UNIVERSITY OF WASHINGTON
Maya Drewicke 
UNIVERSITY OF WISCONSIN
Margarita Feliciano
VANDERBILT UNIVERSITY
Nathaniel Wu 
VIRGINIA TECH UNIVERSITY
Sophie Ward
WASHINGTON STATE UNIVERSITY
Maxwell Berrien 
Cooper Birdwell
Alexis Chang  
Christopher Cossu
Jackson Malakoff
Cristina McHugh
Dominic McKinney 
WHITWORTH UNIVERSITY
Aubrey Parkinson
WILLAMETTE UNIVERSITY
Colby Alexander