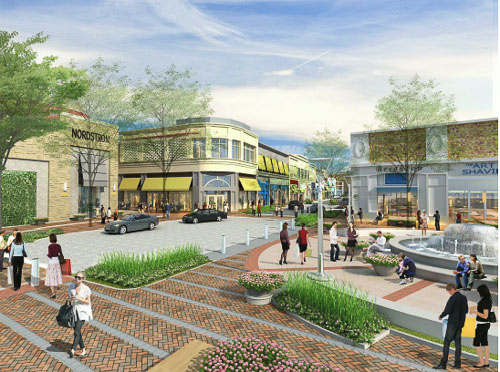 Downtown Walnut Creek experiences a "facelift"
May 6, 2016
Students are excited about Walnut Creek's new and improved downtown.
Broadway Plaza is home to many high-end shops and delicious restaurants. With the second stage of the outdoor mall's renovation almost complete, the downtown shopping experience between Broadway and South Main Street is reaching a whole new level.
In March of 2014, the classic outdoor shopping plaza that opened in 1951 underwent construction with plans of a facelift, more store space, better parking, and the welcoming of many new shops. This renovation has been a $250 million production.
Some Northgate students are eagerly waiting for the renovation to be completed and the new complex to be revamped.
Joe Besagno, a sophomore, said that he is "excited to see the new look of Nordstrom." Besagno is a Broadway Plaza regular and shops about once a week downtown.
"The first thing I'm going to do when it is completely finished is shop with my friends in our favorite stores," he said.
"I go every week," said Katherynn Hwang, a junior who loves to shop. "And I'm really looking forward to the new shops and the city look of the downtown."
Many new stores are coming to Broadway Plaza. These include Godiva Chocolate, Pandora Jewelry, and NYX Cosmetics. In addition, old favorites such as H & M, Bath and Body Works, and Lulu Lemon are moving to new locations .
Sophomore Olivia Lee is eager for the new Lulu Lemon boutique that has been relocated with a fresher look, "I go to Broadway Plaza a lot and the construction has been a hassle but I'm excited to see what the finishing look is!"
Many people are enthusiastic about Broadway Plaza's facelift. The new style is said to be "European" and designers have focused on making Broadway Plaza luxurious and "customer convenient."
Annelise Huovinen, a senior, said that she is most looking forward to "the resurfacing in general and it looking pretty." She makes the trip to Broadway Plaza about once a month. Huovinen is going to go and "look at the Michael Kors shop as soon as construction on Broadway Plaza is done."
Caden Judd is most ecstatic about Broadway Plaza's "new tile design."
Judd said, "I visit Broadway Plaza three times a week to work on my custom Tesla," said Judd, a sophomore. The first thing that Judd plans on doing when Broadway Plaza is completely open is to "kiss the new tiles."
As the second stage of construction will come to a close in June of 2016, shoppers can still look forward to plenty of new stores, about 230 thousand square feet of market area, and upgraded traffic access in 2017.