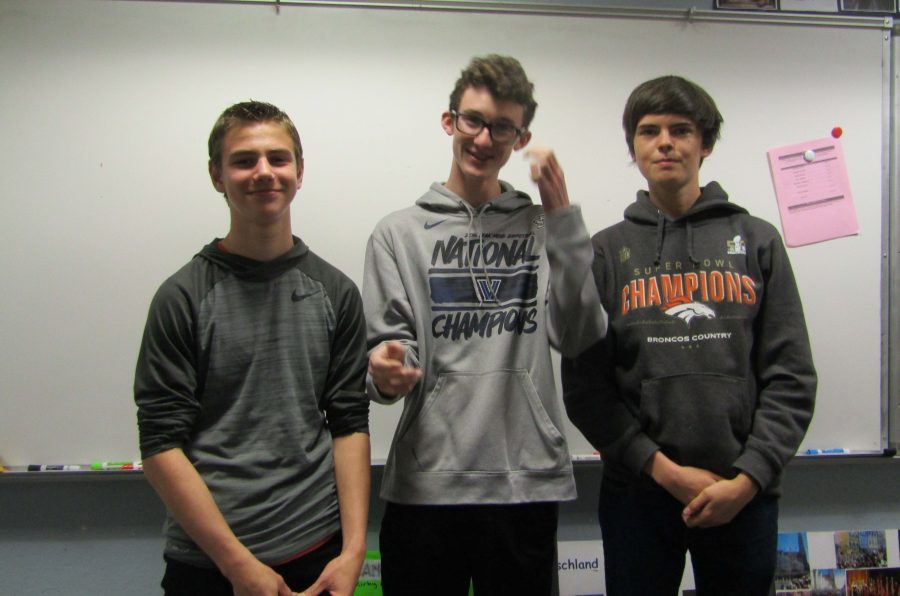 Students broadcast Broncos athletics
Future Sports Leadership students take initiative in live broadcast of sports events
March 14, 2017
The whistle sounded and the ball was kicked off high into the evening sky.  While most students rose to their feet in the 12th man section of the football stadium, one group of students remained seated far above the student cheering section, filming, commenting, analyzing and live-streaming the game.
Although this was a football game last fall, the amateur broadcasters have also filmed and broadcasted basketball and soccer games.
Juniors Sanjay Baas, Jack Doggett, Shane Wilk, Mitch Anderson, Trevor Evans, and senior Tyson Short spent every home game in the stadium broadcasting booth. For the basketball season, they have a spot behind and above the Broncos' bench.
Starting in the 2015-16 school year, the group wanted to get a start in the field of sports broadcasting. With the help of girls soccer coach Brandon Enriquez, they live-streamed the sporting events online at thecube.com.
"I started broadcasting because I have always loved watching and talking about sports and it has always been my dream to be a commentator," explained Anderson.
While Evans and Baas maintain the audio and filming, Doggett, Anderson, Short, and Wilk take turns calling the game.
"I am on the computer constantly changing the score and managing the time of whatever sport we are streaming, as well as making sure to keep the broadcast up and running," Evans said.
Dealing with limited equipment – a computer, a video camera and a phone's hot spot – and no outside help from anyone other than Enriquez, they run an efficient program. The group has used their own equipment, and they are looking for future funding to improve broadcasting capability.
Just like on ESPN, the group covers it all, from player and team stats to team strategies and scouting reports.
During the game, two members commentate on the play-by-play and the color, while the others capture all the game stats to be used later in the broadcast. At half time, a few of the broadcasters gather up and compile all their stats and information from the first half while others film the halftime show.
Doggett credits Enriquez, a part-time coach who also helps with announcing at various games, with teaching the group broadcasting and technology skills.
"He has taught us everything we know," Doggett said. "If we didn't have Brandon, this wouldn't be possible."
Why are they doing this? Not only does it help get them more comfortable with sports broadcasting, the stream also allows family members of athletes unable to attend to watch the game live or recorded.
Views have been steadily improving as they have grown from around 50 last year to just about 200 views per game this year.
"I think broadcasting is huge for Northgate because we don't just stream out to our student body, we stream out to anyone wanting to watch. I believe that this could one day give some huge recognition to Northgate sports and could possibly even grow our sports program one day," Evans added.
Broadcasting was such a success that Northgate plans to include the broadcast option as part of the proposed Sports Leadership class offered  in the upcoming school year. Plans for the course include sports marketing and advertising, and Doggett said the returning members of the broadcast group are signing up. According to Doggett, this will hopefully increase the stream's publicity and allow them to cover a broader range of sports.
So next time you can't be there to support the Broncos, go online to thecube.com and search for Northgate High School to listen to and watch all of the action live.