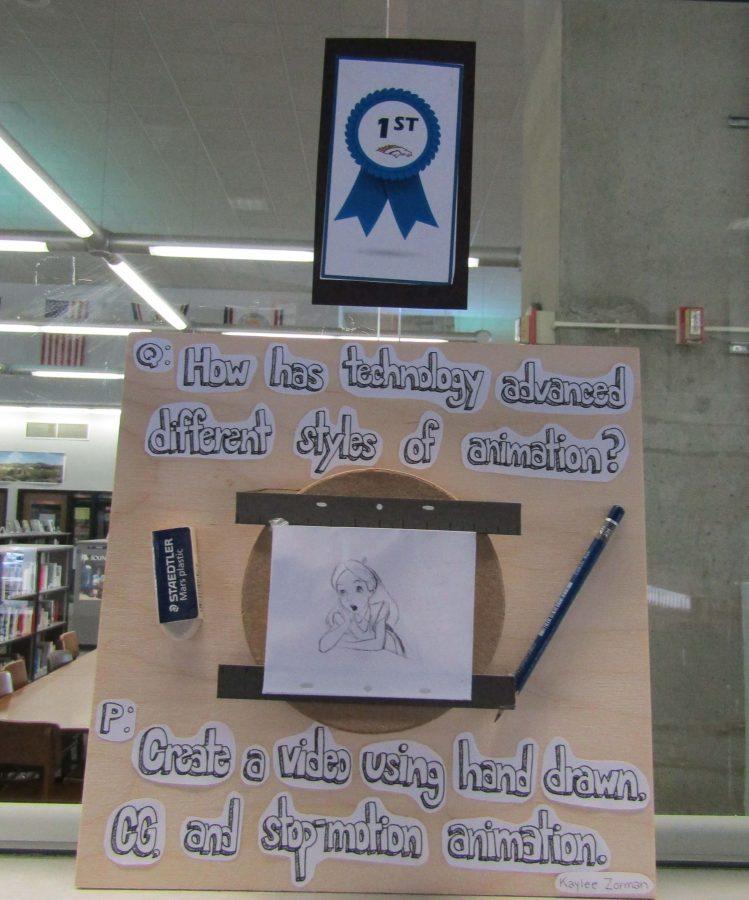 Zach Mora
Senior projects mark rite-of-passage
Senior Natalia Szarmach is stepping off the stage this spring to guide a group of children in theatre performance. She is taking hours of her own time, outside of school, to direct them in a production.
Her efforts are part of her senior project in which she researches the relevance and importance of theatre in the twentieth century.
"My project is to start a drama club in a low income area so it may be be hard to find a group of dedicated kids," Szarmach said. "I hope to have informed relevance of theatre, show why it's important, and I hope I would leave an impact on them and I hope they find happiness in theatre."
Seniors take an entire semester to research a subject of their choice, starting with writing a letter of intent, then they move to find a mentor or an expert of their subject. When they've committed to their project, seniors create a poster that will hang in the school halls for all to see for four months.
These projects range from training, to cooking, volunteering, and everything in between. The best part of this is that students get to customize their project to their personality. Seniors choose something they love, they want to learn more about, or something just entirely new to them. This project entails a lot of deadlines and stress for students.
Jennifer Hoehn is touching the lives of many with her project. Her family does henna art tattoos and she is going to be doing henna crowns on cancer patients. Henna crowns are tattoos done on the head.
I asked Jennifer what her inspiration for her project was. Her answer nearly brought tears to my eyes. "Awhile ago, my sister and I went to a hospital to see a girl who was very ill. We dressed up as Anna and Elsa, who are her favorite Disney characters. When we went into the room, her eyes lit up with pure joy. After our visit, her mother told us that she recovered faster than expected. I hope to recreate that joy and hope in others."
Senior Sebastian Stahl is volunteering twice a week in a Walnut Acres elementary school classroom with autistic children. He is working to find out what exactly autism is and how autism awareness has changed over the past 25 years.
"I wanted to do this project because I believe that in our society there is too much negligence towards people affected by ASD," Stahl explained. "And also the fact that Autism Spectrum Disorder affects each and every person in different ways so I wanted to see how that is true."
When asked what he hoped to gain from this project he remarked, "I feel like this will be a really heartwarming and rewarding experience and I hope to gain knowledge as to how ASD really is and how it affects a variety of different people.
Senior project is a very personal experience that gives seniors an opportunity to broaden their horizons and learn more about things of their choice that they have a passion for. It takes a lot of self discipline and hard work but the outcome is something that they will carry with them for years to come.