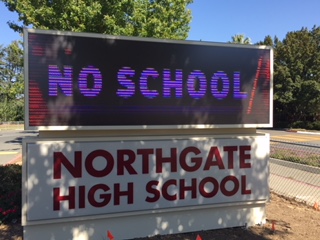 Zach Mora
North Bay fires prompt school closure
Principle says missed days will not likely be made up.
October 19, 2017
School was shut down last Thursday and Friday due to dangerous air quality emanating from the deadly fires in Santa Rosa, Napa and North Bay communities that took more than 40 lives and hundreds of homes.
Mt. Diablo Unified School District officials ordered Northgate and other schools in the district closed Oct. 12 and 13 after smoke and pollution filled Contra Costa County due to high winds from the north.
A message to families from Superintendent Dr. Nellie Meyer by telephone and email announced that school was closed "in the interest of the health and safety of our students, staff, and visitors" first for Oct. 12, and then for the next day.
According to state fire officials, more than 200,000 acres had burned from the multiple fires that broke out Oct. 9 which, as of Wednesday, had resulted in at least 42 deaths with 68 people still unaccounted for. At least 5,700 structures have been destroyed, with entire neighborhoods and schools scorched.
Upon the reopening of school Monday, many students' thoughts went to people who have lost their lives and homes. "I think it's terrible that the fires devastated a lot of communities, and we need to step up and help out our fellow Californians with the respect they deserve," said senior Jane Lin. "It was bad for us breathing in the smoke, but it's worse for the people who had to evacuate and deal with the aftermath of the fire."
Students said they were caught off guard when a gray haze settled over Northgate Oct. 11 and some said they could smell the smoke in classrooms and common areas of the school. Athletic practices were either cancelled or moved indoors and events cancelled as quality officials determined the level of pollution in the smoky sky equal to that of Beijing, or that of a year's worth of vehicle emissions.
On many students' minds was the question of whether the missed days of school will need to be made up. Northgate is one of about 600 northern California schools that closed, according to the California Department of Education.
The state department issued a news release last week stating that districts may apply to receive state Average Daily Attendance (ADA) funding for closure.
"At this point, it doesn't look like we will have to make up the days," Principal McAlister said Monday. The final word will come from the district, he added.