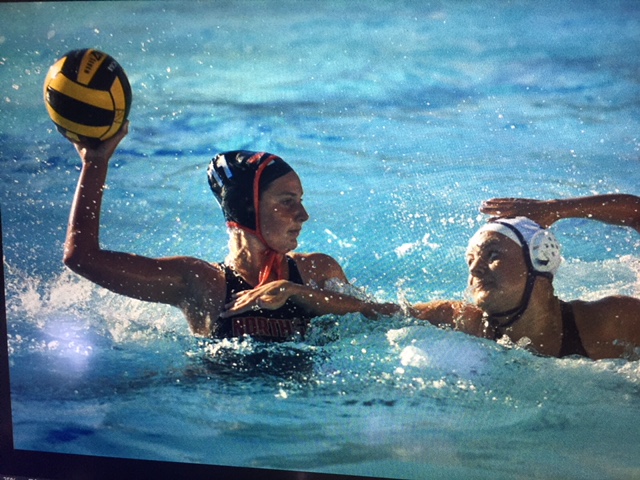 Fall athletic teams make it to North Coast Sectional playoffs in every sport
Special to the Sentinel
Fall athletic teams make it to North Coast Sectional playoffs in every sport
Nine fall teams finish strong
December 12, 2017
Last fall is a sport season to remember. Every fall sport qualified for North Coast Section (NCS), a first in recent memory for Northgate sports. With some late season Diablo Athletic League (DAL) games scuttled by the North Bay fires in the second week of October, teams rescheduled to make them up or adjusted and compensated to finish out the fall with a strong showing, making a name for the Broncos in the sports community. Here is a look at the teams and final standings.
Girls Volleyball
Girls volleyball finished second in league with a 7-3 record in the regular season.
"Overall I think our team improved. We even  made it to NCS this year, something we didn't do last year," said senior and captain  Ali Collins.
The team lost in round two of NCS to Washington High School in a close five-game match.
"This year as a whole we became more of a family," said Collins.
One highlight of the year was winning games they were not expected to win, including a 3-1 match against Acalanes High School on Oct. 10. "No one was expecting that. We have really good chemistry and we have clicked," junior captain Ali Silva said during the season.
With four seniors on the varsity team they are sad to be leaving the sport they know and love,
"Our team's strongest aspect this year was definitely our heart. Everyone on the team wanted to win so bad and nobody ever gave up," senior Chiara Gatto added.
Cross Country
As the cross country season came to a close, both the boys and girls teams faced their competition at finals and in the postseason sending two teams to NCS and one competitor to the state finals.
The girls varsity team placed fifth at league finals. "DAL finals was definitely not our greatest showing. Things just didn't quite click across the board, especially for me, and I don't think that we quite ran to our potential," said junior and varsity runner Sara Wheeler.
The boys placed sixth at finals. "Everybody generally placed pretty well," said senior and varsity runner Patrick Thierry. "Everyone was within a good amount of time of each other which helped us place pretty well as a team".
At NCS on the Hayward High School course, both the boys and girls teams placed in the top ten. "I think we all did really well and became closer as a team," said senior captain Isabel Antolin.
The boys qualified for NCS as a team, finishing ninth out of 23. "NCS was a mixed bag for us. Some of us had really good races, and others were a little bit off their best," added senior captain Michael Wheeler.
After placing third in the NCS, Wheeler qualified to the CIF state competition at Woodward Park in Fresno. He placed fifteenth with a time of 16:04 on the five kilometer (3.1 miles) course. "The third mile was just brutal, but I was able to hang on, and for the most part, maintain my place," said Wheeler.  
Girls Tennis
The girls tennis team, after receiving the wildcard slot, played two matches in NCS before finally losing to Monte Vista, who later went on to win first in NCS.
"We all relied on each other this year and were able to work as a whole. I think that is what really made the biggest impact in helping us get to the NCS semi-finals this season," said senior captain Kathleen Narloch.
Newcomers played an important role in the team's success. "The freshmen were a huge part of how well our team did. We've never made it past the first round of NCS until this year," exclaimed senior captain Raquel Aguilar. The varsity team had five freshmen  including Sarthika Chimmula,  Kylie Choi, Alicia Lee, Kate Lee, and Sofia Zaprianov.
With a majority of the team eligible to play next year, the team expects to return even stronger.
Football
Football had an exciting season, going 8-3 in the regular season and making it to the second round of NCS where they had a heartbreaking loss to Ukiah.
"NCS was a great experience. For the seniors we all bonded closer than ever. For the underclassmen, they had a chance to get a taste of what they could do for years to come," said senior captain David Maake.
The Broncos beat Hayward in round one of NCS 50-20, an exhilarating game that sent the team to the Nov. 18 semi-final.
A big win over Mt. Diablo Nov. 3 catapulted the Broncos into the postseason. "The Broncos finished the season with another record performance by junior quarterback Jack Fulp, who threw six touchdown passes in the first half against Mt. Diablo," said Coach Ben Ballard of the 42-8 victory.
Next year the team hopes to go further into the playoffs. "Hopefully next year we can limit our injuries as a team because that is always a huge factor going into the playoffs," said Fulp. "Overall this season was great, as we are continuing to improve the program's success each year."
Boys Water Polo
Boys water polo posted a 12-9 overall season record, an admirable season in a tough league that ended at the first round of NCS against Monte Vista in a 5-8 loss. The seniors carried the team this year paving the path for strong younger players who will bring experience next year.
"The bond that we had was far greater than any other team I've played on," senior captain Lucas Castle said. "It was weird knowing that everything I was doing was for the last time but it was also the most rewarding season of my career. We had each others' backs this year."
The team struggled in conference games this season in a league that includes powerhouses Campolindo and Miramonte, going 0-4 in league play. Even though they struggled, team leaders say a strong roster of underclassmen will carry forward.
Senior captain Owen Kneafsey said winning the Sierra Shootout tournament was a highlight, and he predicts future success. "I think the team will excel next year because we bonded this year," he said.
Girls Water Polo
Girls water polo had a similar experience to the boys team, playing in the top division of the DAL and going 10-15 overall, with an 0-4 league record. The team lost in their first round of NCS to Bishop O'Dowd at Contra Costa College in San Pablo.
"Our coach, Jim (McClelland), really wanted and expected a lot out of us and pushed us to expect more from ourselves," said senior Naomi Jenkins, a co-captain along with junior Jordan Sibley.
This year's young team had only two experienced seniors and four varsity returners, but the team learned to play well together.
"We had a lot to learn in a short season, but the commitment from the players led to our quick learning of how to play together," Jenkins said.
Some highlights of the season for the players included beating Amador Valley, which has always been a tough game, placing ninth at the Western States Tournament in Stockton and making it to first round NCS.
Girls Golf
The girls golf team went undefeated this season, finishing with a 6-0 record against Acalanes, Campolindo, Las Lomas, and Miramonte High Schools. Their best score was against Acalanes where they were able to shoot under 200 as a team.
"Although our league tournament got cancelled due to the bad air quality, we still won due to the fact that our record was the best out of all the schools in the league," sophomore Gia Feliciano said.
After winning the league, girls golfers advanced to the NCS Division One Championships where they played 18 holes at the Lone Tree Golf Course in Antioch. They finished in ninth place at  NCS with a score of 440.
Individually, Feliciano shot 1-over par, for a score of 73 at the NCS Championship, which tied her for first place and qualified her for the Northern California Golf Championships where she shot 82
"Everyone was really supportive and excited for me," said Feliciano. "Next season, I hope to make it to the finals as a team, and I believe that we can do it."
The DAL all-league golf team included Gia Feliciano, Sam Ricafrente, Skye Mingming, Serena Billeci, Dymphna Ueda, and Chloe Anderson.