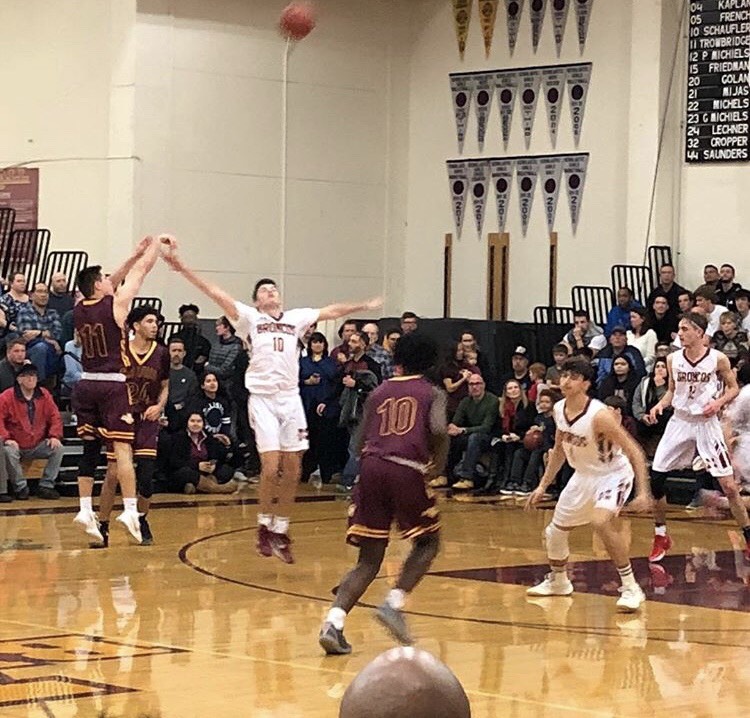 Winter Sports Recap: Teams end the season with strong performance
Boys Soccer
Boys soccer finished their season 6-9-5 overall and 3-5-2 in the DAL. The team did not qualify for North Coast Sectional (NCS). Although the team did not make NCS this year, they were able to win three more in-conference games. "The team definitely went through some patches where our play style and chemistry weren't on point, but that never changed our effort. We always gave it everything we had,
all season, every game," said senior captain Joe Besagno.
In the second half of their season, they won just two of their last ten games. "In the second half of the year, we simply just started playing in more competitive games," said senior Jordan Burkes. Throughout the season, scoring was a recurring issue.
Everyone worked hard to get the ball in front of the goal, but "finishing was just a weak point in our play," added Besagno. With struggles shooting and facing tough competition, the Broncos look to rebuild for next year.
Girls Soccer
Girls soccer finished with a 13-2-4 overall record and 8-0 record in the DAL. The team won their first NCS match against Ukiah with a goal scored by captain Julia Hagedorn off of an assist from senior Sarah reed, sending them to round two in good spirits.
"We played very well in that game. The best game I believe anyone played," said Freed.The team lost their next match against Maria Carrillo 0-2.
The varsity team included players from all four grade levels. "This year, our team was linked throughout all the grade levels that were present on our team. While in the past, underclassmen felt distant from upperclassmen, this team saw freshman, sophomores, juniors and seniors all collaborating. It was this new, open attitude that allowed us to become successful this season," said senior Katie Hollister.
"What helped our team to be successful was that we all were very committed to the team and the teammates. We did all we could to make sure we had a bond so that we worked for each other," said Freed.
Wrestling
Northgate wrestlers competed at NCS sent one competitor to the CIF State Boys Wrestling Championship.
This year there were a record number of competitors who placed at NCS on Feb. 23 and 24 at James Logan High School in Union City: seniors David Maa'ke and Skylar Morford finished 7th, junior Gage Mettler placed 7th, sophomore Cole Sanchez placed 3rd and qualified for state, and freshman Nick le Sure finished 8th. As a team, they placed second at NCS duals.
"NCS is always fun and there was an extra rush this year because it was our last year for a good portion of the team," said Morford, who also said he will miss the chance to hang out with some of his friends on the team.
Veterans are optimistic about next year. "There were a lot of promising freshman on the team this year who show a lot of potential," said Mettler.
Boys Basketball
Boys basketball pulled out an impressive final record of 22-5 that earned a playoff spot in NCS on a team that has a promising look for next year. The team finished first their league with a record of 10-0 wrapping up the first year in the Diablo Valley Division.
Making it to the first round of NCS, they played Las Lomas on Feb. 20, losing 76-58. "My team and I have mixed feelings about this season. Obviously, losing first round of NCS with a tough seed is hard to swallow, although we feel we had a successful season," said senior Alex Schaufler. The team is losing many key players to graduation, but the juniors and underclassmen are ready to fill their shoes. The team consisted of eight seniors, so half of the team will return to fight for a repeat championship.
"We are excited for next year, even though the current seniors were a big part of the team. I have faith that next year people will step up when called upon," said junior Aidan Lechner.
Girls Basketball
Girls basketball finished 7-20 overall and 3-7 in the DAL. After starting 0-10, things were not looking good. With their poor record, the team also failed to qualify for NCS. "We just needed to be more confident going into games we played," said junior Jordyn Faustini.
Although the team struggled most in games, there were some positive aspects to the sea- son, such as the wins over Mount Diablo High School. "We played really well in both games, and it really brought our team together," added Faustini. The 11-person team also struggled to stay injury free. "On a team of 11 people, there was a point in the season we were playing with only five people," said senior captain Katie
Keyser. "We never had our full team available to practice so we were never really able to scrimmage five-on-five, which led to some problems with the speed of the game being too fast for us sometimes," Keyser added.
Next year, the Broncos will begin a new chapter as they play for NCS qualification. "I think we need to push ourselves in the off season so we are ready when the season begins," said Faustini.