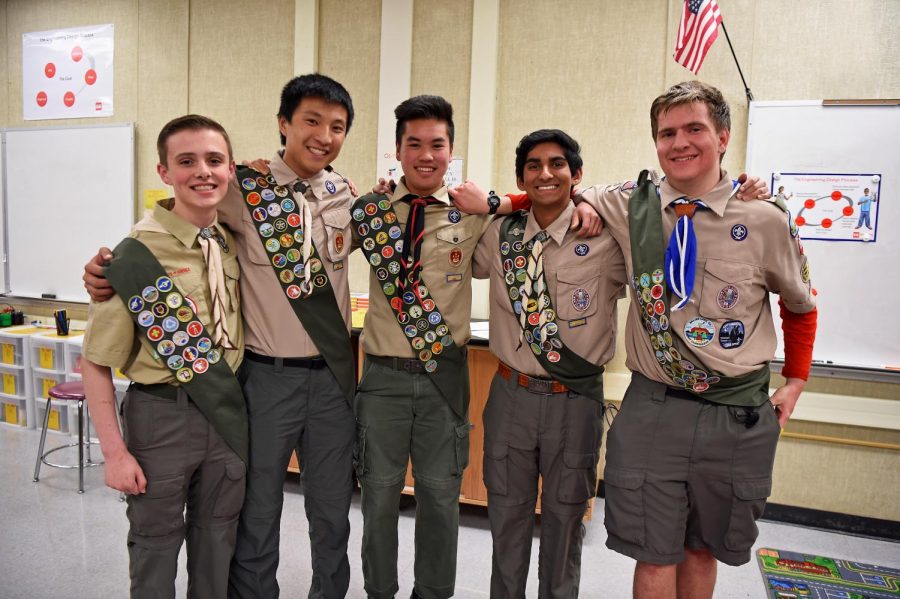 Special to the Sentinel|Connor Akers
Scouting serves students well, say longtime members
While many students wear a uniform, attend meetings and perform community deeds for a number of years in elementary school, it's a little more unusual to find high school students who are continuing as Scouts to the end achievement of Eagle Scout or earn the Gold Award.
"What has kept me going is all the fun Scouts brings – all the community service, all the camping. The people who have done it before me were very inspiring," said Connor Akers, a junior in Troop 810, who recently earned his Eagle Scout rank.
For Akers' Eagle project, he built a viewing deck for family members of children who ride horses at Xenophon Therapeutic Riding Center in Orinda.
"I wanted to create a more comfortable viewing area for families," said Akers, adding that he was familiar with the program after doing community service there with his father.
Boy Scouts of America, started in 1908, and Girl Scouts of the United States of America, started in 1912, represents an iconic part of America, outdoors experience and the tenet of helping others.
Akers is one of the many at Northgate who started Scouting as an elementary school student and one of the few who have continued into high school. Junior Patrick Chesnutt and seniors Greg Maisler, Madhu Balasubramanian, Jonathan Louie, Brendan Thio, and Katie Blake are also among those who likely have the ability to expertly tie knots, build fires, and who have provided service to their communities through the venerable program.
Since Cub Scouts and Daisies, these students represent several different troops for as many as 13 years for some and have one thing in common: they have grown closer to their troops, volunteered numerous hours in their communities, and learned abundant skills that will serve them well throughout life.
Greg Maisler has enjoyed his twelve years as a Boy Scout. "Without it, I wouldn't be the person I am today," said the member of Troop 832.
"It has made me more confident in everything I do and I recommend it to everyone. I loved the camping trips that my troop went on because there is a small amount of light in the forest, which is perfect for stargazing."
Maisler has completed his Eagle project – an opportunity that allows a Boy Scout to demonstrate his leadership abilities with a project that benefits his community. Maisler built a 36-by-42-foot brick patio in the backyard of his Jewish temple, B'nai Shalom, for outdoor ceremonies.
"The most adventurous thing I've done with my troop is be a canopy tour guide in the National Scout Jamboree in West Virginia. As a tour guide, my job was to zipline around the trees and guide people across," Maisler said.
Similarly, Jonathan Louie and Brendan Thio, scouts in Troop 810, have earned Eagle status. Their project, they built two wooden picnic tables for Walnut Acres Elementary School.
"Achieving Eagle Scout status has been the greatest honor in my life," Louie said. "Boy Scouts has given me many life skills that I will use in my future career. It's been something in my life I will always cherish because it's made me a better person. I've experienced so many things I'd have never done if I didn't do it."
"Some of my favorite memories have been doing backflips off of 30-foot-rocks at the Wolfeboro summer scout camp, going backpacking for 50 miles, eating freeze dried food," Louie recalled.
Junior Patrick Chesnutt's Eagle project meant an upgrade to the 10-year-old garden located outside the southwest entrance of the school, toward the portables. He restored the garden by weeding, rototilling, and adding flowers and new trees. The garden has long been maintained by students and staff in the special education program.
"We bought vegetables so that the students could plant them," Chestnutt added.
Chesnutt said it's hard to recount the amazing experiences over his years, but pointed out one highlight as the backpacking trip to Philmont, a backpacking trip in New Mexico that many consider a right-of passage for older Scouts.
Like Chesnutt, Akers says his high country summer adventure was a highlight. It consisted of a10-day camp in Canada that involved canoeing from campsite to campsite, and carrying the canoe when off of the river, in what is called "portage."
Katie Blake, a senior in Troop 30864 is a 12-year scout. She most enjoys the sense of community within the scouts.
"I've gotten to be a part of some amazing opportunities, and I know so many girls along the California coast from summer camps," Blake said. Blake often goes by "Magic" at these camps, and she said that often, fellow girl scouts recognize her in the grocery store and around town.
Blake, as an Ambassador (a Girl Scout from grades 10-12) has focused on leaving her legacy and passing on what she knows to the younger scouts. She's involved in the leadership and planning of activities as well. For example, she is excited for the three day camping trip that her troop will go on in April, where she will be running an archery range.
Madhu Balasubramanian, a senior in scouts, also enjoyed the activities and lessons she learned the most. "One of the highlights for me was the camping trip and hike on a beach," Balasubramanian said. "Girl Scouts for me was about building confidence with people I loved. It taught me how to be a leader while building relationships."