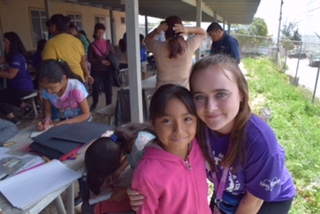 Students build houses in Mexico on spring break mission trip
For most high school students, spring break is the perfect time to relax and unwind, the halfway point of the second semester. But for others, it is the time to head south of the border with Concord's St. Agnes Church, to a small neighborhood of Tijuana to build three houses from scratch.
That is what a group of Northgate students did from March 31 to April 7.
"This is my second year taking the trip," said senior Anna Krueger. "I had so much fun last year, and from the day it was over I have been waiting for it to be that time again."
Krueger says that she isn't a congregant of the church, but that she heard about the trip from a friend. "I decided to give it a try, and I am so glad that I did! It has been one of the best experiences of my life."
And most attendants of the trip feel the same. "I absolutely love the Mexico trip," said senior Aisling Murphy. "It's only a week, and when you first head down you might not know everybody, but by the time you are driving back, everyone is singing and getting along and it feels like a great big family!"
"I feel like I'll probably go back next year," said sophomore Kevin Krueger. This was his first time going on the trip, and his sister was the one who convinced him to go.
"She had such a great time and couldn't stop talking about it when she came back, I thought that I should at least give it a try," he said.
But even those who don't make a dozen new friends recognize that there are even better parts to the trip than meeting new people. "It is so rewarding and humbling to meet the people who we build the houses for. At the end of construction there is a ceremony to deliver the keys and everybody cries because it's just so emotional. It's one of my favorite parts of the trip," said Murphy.
Sophomore Rune Lervaag also plans to return next year. "I didn't really feel like going at first, but it turned out to be so fun that I'll probably go again and keep going until I start college, then the break schedules won't line up anymore," he said.
Seniors Mora Ognian and Stephanie Guerrero also made the trip to build houses.
"It definitely was not a vacation but it was so much more," Guerrero said. "Not only did I make new friends, I also got to meet the beautiful families we build houses for and develop relationships with them, as well. I definitely want to go on another mission trip like this in the future because it is such an eye-opening experience and there is no better feeling than helping someone in need."
With three of the Northgate participants graduating, Murphy, who has gone on the trip four times already, said she is leaving the recruiting to Krueger and Lervaag, the only members who will be left at Northgate next year.
"I would definitely say that people should try it if they're interested, they will absolutely not regret it," Murphy said.