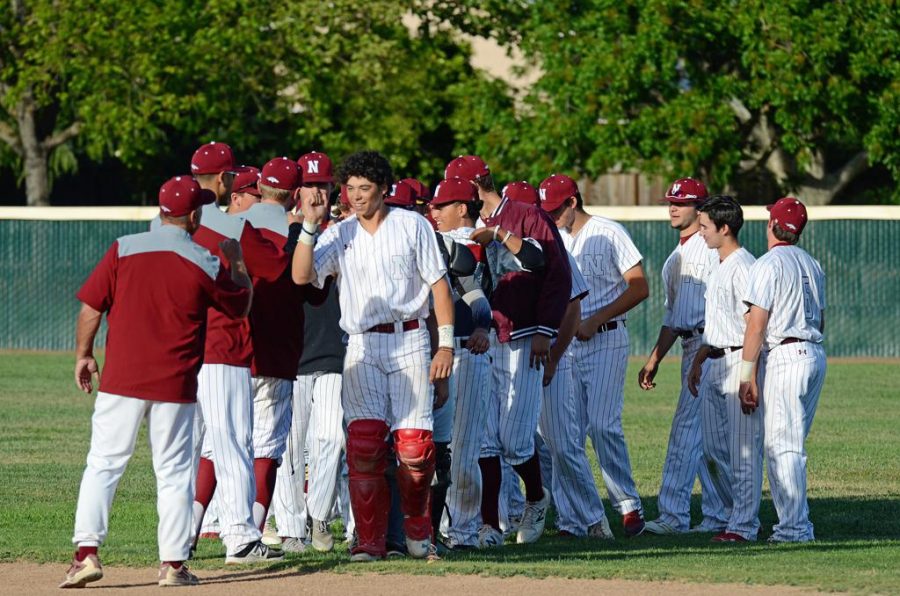 Baseball finishes with stellar 18-6 record, goes 10 innings in round one NCS
Boys varsity baseball completed of one of their best seasons in recent years.  With a record of 18-6 in the regular season, the Broncos took the DFAL league crown after finishing fifth in the league last year. They played 10 innings into round one of the NCS tournament May 23, losing to Washington High School 1-2 before an enthusiastic home crowd.
"It was a pretty high energy game. We weren't happy with how it ended, but we had a great season," said Ian Villers, who is headed to Cal as a pitcher.
Northgate's lone run came in the fifth to tie the game, after Washington scored in the first inning. Washington scored in the 10th, and will play round two May 26 against Drake High School.
During the regular season, the team scored about 6.5 runs per game, while only allowing just below three runs each game. The offensive explosion was led by senior Nico Zeglin, who posted a .424 batting average and led the team with three home runs and 24 runs batted in.  Zeglin had the highest slugging percentage and the most total bases on the team, and will play baseball at College of San Mateo next year. Senior leadoff hitter Kevin Clancy led the league with an on-base percentage of .577 and led Northgate with an average of .431 and only struck out 7 percent of the time.
Pitching was another one of Northgate's strong suits. The combination of Villers on the mound and junior Brock Rudy behind the plate proved lethal. Villers had  a 7-1 record and an earned run average of 1.91. The Broncos' ace also struck out a league-leading 78 hitters, 33 more than the next closest pitcher. Rudy was a reliable catcher and was also the team's leader.  
Rudy also showed great discipline at the plate, walking about 25 percent of the time he was up while also hitting .345 and stealing six bases. As Zeglin put it, "we don't really [have a captain] but if we did it would be Brock."
With nine players graduating, baseball will have a new team and a new chance next spring. "Next year will be a year where people are going to have to fill some big shoes," said Rudy, a junior who is already committed to University of Utah. "I know we have the talent and I'm excited to watch our team."