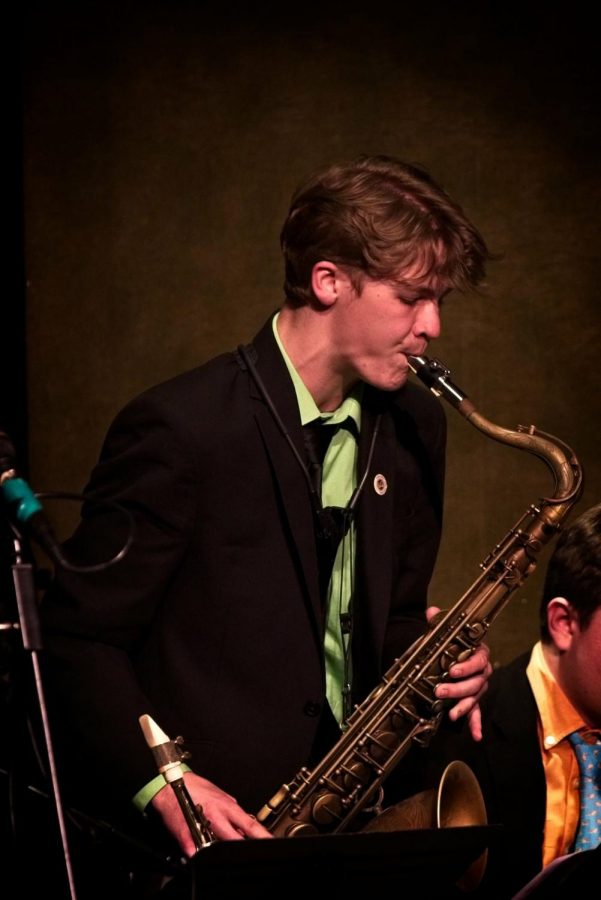 Jazz student headed to the U.S. Marines…as a musician
The typical senior tends to choose a traditional path of higher education after graduating such as a two-year or a four-year college or ‒ maybe if they're adventurous‒to take a gap year. Most seniors at Northgate are going by either of those plans.
But for Cameron Wanser, his plan has a twist. He is certainly not the first Northgate grad to join the military, but he may be the first joining as a musician.
"I will be joining the U.S. Marine Corp as a jazz saxophonist for four years," said Wanser earlier this month, days before he performed at Yoshi's Jazz Club in Oakland with the rest of Northgate's award-winning Jazz Band I.
Wanser has played clarinet or saxophone in two bands each year throughout high school, as well as several community jazz bands. His decision surprised some who know him, and who know that he was weighing an offer from the Berklee College of Music in Boston. Music remains his ultimate goal during and after his service, however.
"After I complete the minimum commitment years to the Marines, I will use my G.I. Bill to go to Berklee College of Music, fully paid for by being in the military," he said.
Another difference between Wanser and his classmates is that he won't be able to spend his summer lazing around or just hanging with friends. "I have to do training during the summer for the Marines, which is Boot Camp. I will be stationed in San Diego for 13 weeks starting the 19th of June," he said.
The training isn't one that he is particularly excited about. "I am not looking forward to Boot Camp, because it will be really hot and it requires a lot of physical training." But he acknowledges the benefits stating, "the positive side is that I will be in great shape."
Finally, Wanser looks on the bright side and to all the doors that the experience will open for him. "I am really looking forward to traveling the world to do what I really enjoy: playing jazz music."