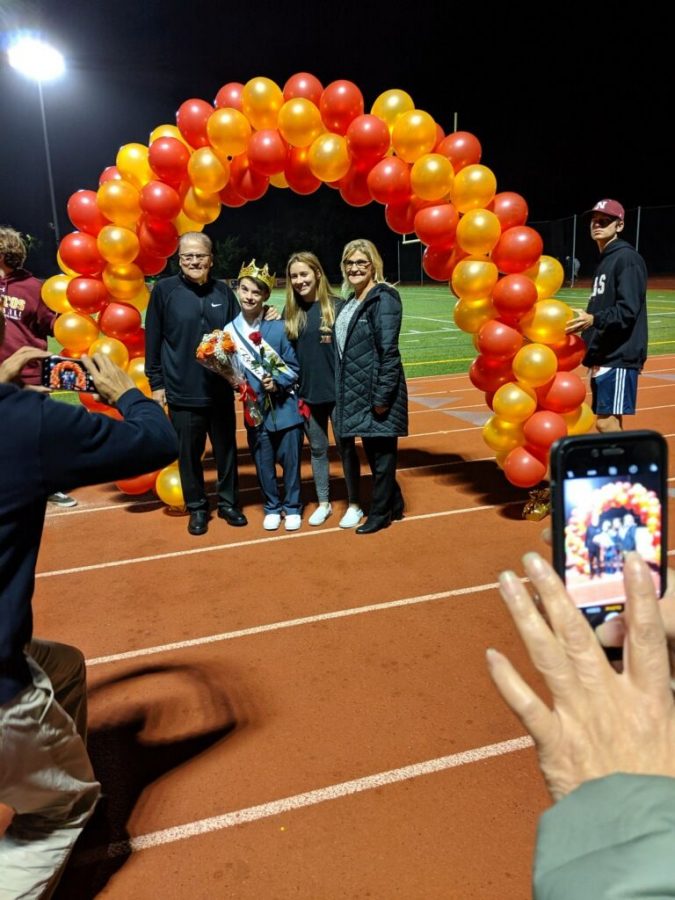 Special to the Sentinel l Christina Vallee
Students cast 2019 Homecoming votes for kindness
Gus Xepoleas voted 2019 Homecoming king and Abigail Cheung queen from field of 16 candidates
October 4, 2019
Northgate High School broke barriers at the football game Friday Sept. 27, 2019 – not for passing or scoring – but for challenging the status quo at the halftime Homecoming ceremony.  
Students returned kindness with kindness by handing the Homecoming King's crown to Gus Xepoleas. Gus is an outgoing senior who delivers passes as an office TA and who was a manager for the school basketball team last year, but he stands out for more than just his amiability –  he also has Down syndrome. 
"It showed how people are very open and appreciate people who are special in their own ways," Associated Student Body president Arthur Yan said, an organizer for the Homecoming celebration. "It shows our senior class is very aware of who people are."
He added that students recognize the kindness Gus brings to campus and that seniors got it right.
Seniors also voted Abigail Cheung Homecoming Queen from a court that included a total of 16 nominees, eight girls and eight boys. Seniors nominated their peers through a series of ballots sessions in their government classes. The winners were revealed on game night.
Senior Ellie Taylor, a nominee for queen who walked the red carpet, said she was pleased to be part of the entire event.
"I was really proud to be included with such intelligent, hard-working and kind-hearted people, which you don't always see with this kind of pageantry," Taylor said.
Most of the excitement and enthusiasm of the evening centered on Gus, who is well known to many. In fact, he is also a local celebrity of sorts. He has been on televised news twice for his participation in high school events that are typically reserved for the average go-getters. 
His recent coronation got him an exclusive story on MSNBC. "I'm jealous," his younger sister, sophomore Grace Xepoleas, kidded with a smile when asked about the attention her brother had received. 
All joking aside, she is encouraged by the way her brother is accepted in the student body. "I feel the students really enjoy him and see how he makes an impact on campus," she added.
The good will doesn't stop with Gus, and one of his teachers gives praise to all students. "Northgate High School in general is very inclusive of the special ed students," said special education teacher Christina Vallee. She said students are known to stop by room 77 to say hello to her students daily, and that on Thursdays, members of the general population in the Best Buddies Club bring their lunches to eat in class and socialize. Vallee said the effect of this socializing on the department is very emboldening. 
 For Gus in particular, walking along the red carpet set out on the field and through the balloon arch was an exaltation – but to the staff and students it came as no shock.
Gus works as an office assistant during school hours, which gives him the opportunity to move around the campus and deliver passes to classroom teachers as a classroom aide waits in the doorway. Students often greet him with fistbumbs and high fives.
"When he won, I wasn't really surprised at all," Vallee said. "Everybody at Northgate knows who Gus is." 
Senior Eden Broussard, ASB vice president, announced all 16 candidates, their family escorts, and their involvement as each candidate paraded down mid-field, flanked by the marching band and color guard. She was pleased with the selection of the class of 2020, from initial nominations to the final outcome.
"I think for the first time in a long time it wasn't so much a popularity contest, but showed students recognizing nice and caring people," she added. 
To many students, special education can feel like a separate attachment to the overall community. It is a rare occurrence when  a student with disabilities gets the spotlight, and Gus wearing the homecoming crown makes a powerful statement: high schoolers with special needs are still a crucial part of the high school community. His crown is a laudable symbol for inclusiveness, an ideal that society has yet to fulfill.