Madrigals and Belle Voce sing out in countywide a capella virtual concert
Deke Sharon, producer of NBC's "The Sing-Off", works with Northgate and area singers to create a stunning performance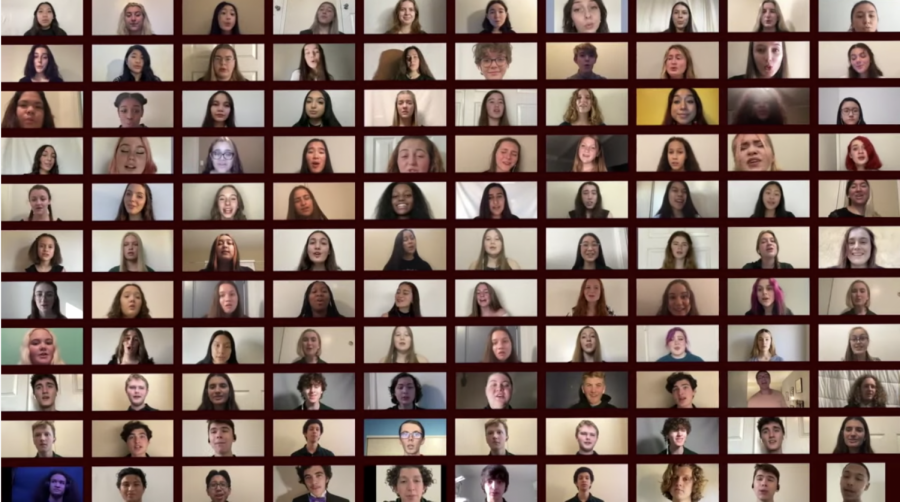 Members of two musical groups kicked off their weeklong Thanksgiving break in glee with the premiere of a concert that brought more than a hundred students together with help from the arranger/director/producer of the three Pitch Perfect movies and the producer of NBC's "The Sing-Off."
Inspired by College Notes, an a cappella concert involving groups from various colleges and universities, High School Notes: A Digital A Cappella Concert features a cappella groups from three high schools in the Mt. Diablo Unified School District and five others in Contra Costa County.
The performance, organized by the Diablo Regional Arts Association, debuted online on Nov. 20 and the video recording is still available on YouTube by clicking here or on the Diablo Regional Arts Association's channel. Kaiser Permanente is the title sponsor of this project, and several local organizations also supported this program including Walnut Creek Downtown, the Lesher Foundation, and the Contra Costa County Office of Education.
"You know what?" asked emcee Marcus Washington, anchor of NBC Bay Area while  introducing the show. "It's going to take more than a pandemic to stop the arts and the joy and the relief it brings," he stated, kicking off the nearly one-hour recorded event.
Professional Deke Sharon, known for his movie and television musical producing, professionally synthesized the individual student recordings into blended masterpieces, inserting creative visual graphics. Sharon organizes a college version of this performance, and he wanted to extend his work to high schools during the pandemic, which has reduced high school performance opportunities.
Each group from eight schools chose a song with a special meaning and a message paying tribute to one of the four issues: frontline workers, community resilience, mental well-being, and racial justice. "And that's why this concert's so important," Sharon said enthusiastically in the video's introduction. "These students and their dedicated music teachers will move you with their songs. Some will make you smile, some may move you to tears."
Northgate's Bella Voce beautifully performed "Light of a Clear Blue Morning," by Dolly Parton. The Madrigals performed an awesome remake of "The Longest Time," by Billy Joel, with adapted lyrics appropriately describing the pandemic, social distancing, and online school. Both groups are directed by choir teacher Geoff Carter, who introduced the songs in the video performance.
Most of the participating students from eight different high schools, including those at Northgate, recorded themselves and their voices at home. Senior Ethan Lumanlan, a member of the Madrigals, was very proud of the outcome of the virtual concert. 
"The best part of participating in the concert was hearing the blend of our group, while also listening to other high schoolers. I felt really proud watching the whole concert, and I am happy with how it turned out," Lumanlan said following the concert's release. 
"It was challenging to prepare for the concert because we can't sing with each other, and all communication is really hard through the internet," said Madrigals member Livvy Hiatt. 
Hiatt, a senior, has been in the Madrigals for three years. "I didn't think the concert was going to be that cool, but I was really impressed when I heard all the different schools singing, especially with the professional mixing. I didn't think anyone really cared about the concert outside of choir, but as it was airing and afterward I received all sorts of positive feedback, which felt gratifying after all the often hard and frustrating work we put into it."
"When you're listening to that beautiful Belles choir, I just can't tell you how humbled I am by the beauty they were able to create," said Carter, who also instructs two other singing groups and a guitar class. "Mads completely delighted me. I had no idea – I didn't watch any of that gag reel stuff. I asked them to make it, told them to do it… and some of that stuff was just beyond hilarious." 
With so many technical aspects including individual recordings of each performer sent to producers who worked off-site, there was potential for error. Disappointingly, videos of some Bella Voce members did not appear in the performance.
Carter said factors that led to the omission included technical file sharing and timing. "It was a combination of new format, working this whole digital thing, the security issue we had with our stuff not going to people outside MDUSD and having to figure out to work around it last minute," Carter said.  
The other singing groups involved are Monte Vista Impulse, De Anza A Cappella, College Park Chamber Singers, Contra Costa School of Performing Arts Members of Conservatory Chorale, De Anza Chamber Pop, College Park Women's Ensemble, Concord Ladies First, Monte Vista Melodies, and San Ramon Valley Chamber Singers. Songs these groups performed include "Seasons of Love" from Rent, "Imagine" by John Lennon, and "Don't Stop Believing" by Journey.
The finale features all 110 students singing a moving rendition of Bill Withers' "Lean on Me".
"All of the choirs sounded fantastic and the coordination involved, the difficulty pulling that off, makes it all so much more impressive," commented Principal Kelly Cooper. "It was a great moment to celebrate our students, and to miss them as well… it was a great way to go into the holiday break-we are all getting through this, and we are better together."
Editor's note: A second version of this article appears February 10, 2021, after Diablo Regional Arts Association members saw this Sentinel article, accepted the omitted music files and recreated the choreographed version with all members of Belle Voce.