Spectacular sports moments, movements and memories leave their mark in 2020
The Sentinel's Alex Hong shares his national and worldwide 2020 picks for sports and athletic loss, accomplishment, firsts, and celebrations
2020 was a year with  challenges that led people to believe that it was the worst year in recent memory. While this may be true in some perspectives, athletes also had their ups and downs in this movie of a year. Professional, college, high school and youth sports were modified or cancelled, and fans are still largely banned from the stands of competition that restarted last June in a limited version after the initial standstill in March. The summer Olympics scheduled for Tokyo were postponed, and even now its future is unknown although an optimistic date is set for July 23. 2020 brought some lows in the sports world, but also very honorable and notable moments. From the sad deaths to the victories 2020 will still go down as a special year in the sports world. 
Here is a look at the Sentinel's picks for notable moments of 2020, starting in January, with help from published accounts and interviews.
Basketball fans and the world say goodbye to Kobe Bryant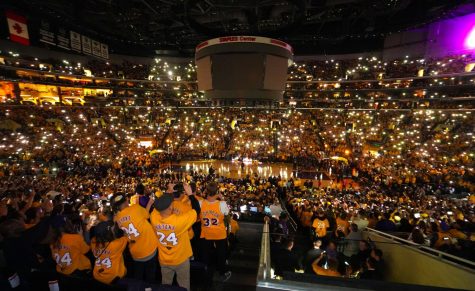 January 26, 2020 – The death of retired NBA superstar Kobe Bryant and his 13-year-old daughter, Gianna Bryant – known as Gigi –  in a southern California helicopter crash was emotionally and physically impactful.
Not only was this death devastating to Bryant's family, but the influence Bryant had on millions, if not billions, of people only increased the sorrow and the grief throughout the sports world. The death of Bryant, 41, caused despondency and while it seemed to be a sad beginning to 2020, it also completely reshaped the NBA. In honor of Bryant, the NBA all-star game was completely altered for the better. Instead of being a showcase to show the skills of players, the all-star game became a competitive and exciting basketball game. Players fought to honor Bryant, and it reshaped the all-star game into a fan favorite competition.
Bryon Spruell, the NBA's president, said in an interview with ESPN, "We have been very focused on making it more competitive, making it more exciting and making it fun." Seven other people also died in the accident. The death of Kobe Bryant may have been a lowlight to begin 2020, but it had a powerful effect for the NBA.
Kansas City Chiefs win their first Super Bowl in a half-century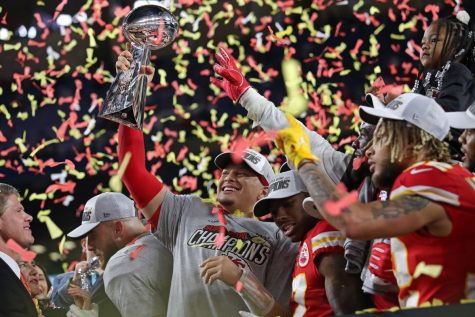 February 2, 2020 – The Kansas City Chiefs winning Super Bowl LIV was not only incredible for the franchise, but the players broke records while doing so. The Chiefs became the first team to overcome a 10-point deficit three times in a single postseason, and beat the San Francisco 49ers after a 10-point deficit as well.
Patrick Mahomes, the quarterback for the Chiefs, became only the third quarterback to win a championship while under the age of 25. "We kept believing," Mahomes said in an interview with CBS sports. "That's what we did all postseason. I felt like if we were down by 10, we weren't playing our best football. The guys really stepped up. They believed in me. I was making a lot of mistakes out there early. We found a way to win it in the end." Mahomes had a driving mindset, and that helped the Chiefs win their first super bowl in over 50 years.
And who knows? Maybe they will do it again – they have another chance for victory Sunday Feb. 7, 2021, when they play Tampa Bay in Super Bowl LV. 
Alex Ovechkin scores 700th goal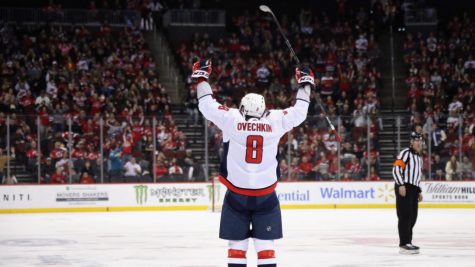 February 22, 2020 – Alex Ovechkin scored 700 goals in hockey and was the second youngest person in NHL history to reach that benchmark. Ovechkin, member of the Washington Capitals, also accomplished this in just 1100 games, the second-fastest person to reach 700 goals.
While hockey is not a huge sport, Ovechkin had heads turning at the speed in which he reached this milestone.
"I don't think the team was thinking about it too much," Ovechkin said  in an interview with CBS sports. "It's something we know is going to come and you just have to wait a little bit. And, again, pretty big number, pretty good company. So, let's forget about it and it goes on."
Ovechkin most definitely reached a huge milestone, and we can expect him to keep breaking records.
Tyson Fury vs. Deontay Wilder makes a thrilling rematch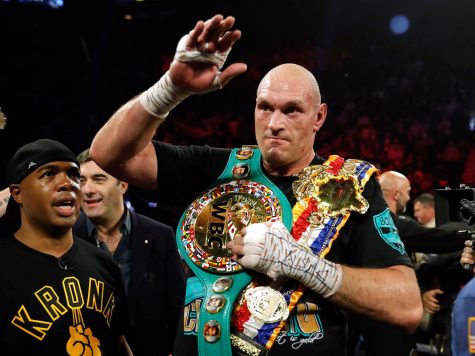 February 22, 2020 – The thriller of Fury and Wilder from 2018 was revisited in the beginning of 2020. Fury and Wilder fought back in 2018, when they ended in a draw. This began the thrilling rivalry. Both yearning for a rematch, 2-22-20 was the big day. Fans were exhilarated for this fight, and the uniformity of fans in boxing was not an issue in making lots of money. The match started even, with both Fury and Wilder getting equal opportunities to show off. But Wilder eventually lost, getting knocked out by Fury's impeccable technique. "He is a warrior," Fury said in his post-fight interview with DAZN broadcast. "He will be back. He will be a champion again. But I will say, the king has returned to the top of the throne." Fury and Wilder will be back, and  we hope to see another thriller this year.
Liverpool wins title for first time in 30 years
June 25, 2020 – The city of Liverpool, England, has been aching for an English Premier League title since 1990. Liverpool has failed to accumulate a successful franchise until the arrival of Mohammed Salah in 2017.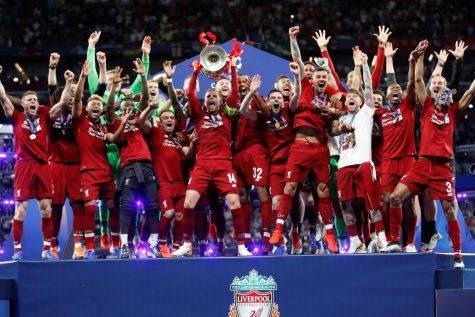 Salah was a phenom, with eye-catching skills even professionals wish for. Salah brought competitiveness to the team after losing two of their best players, Luis Suarez, attacker, and Coutinho, winger. The addition of Salah attracted many more superstars, including Sadio Mane, winger, Virgil Van Dijk, defender, and Roberto Firminho, attacker.
This team was formed in late 2018, and it took time for them to build chemistry and be successful, but their wait paid off. Beating defending champions Manchester City, Liverpool FC clinched the EPL title June 25.
"I have no words. It's unbelievable. Much more than I ever thought would be possible," Jurgen Klopp, coach of Liverpool, said  in an interview with NBC sports. "Becoming champions with this club is absolutely incredible. It is an incredible achievement of my players … and a pure joy for me to coach them." Liverpool has escaped their dark times, and we can expect more outstanding soccer from them.
Alyssa Nakken becomes the first woman to coach on the field for MLB game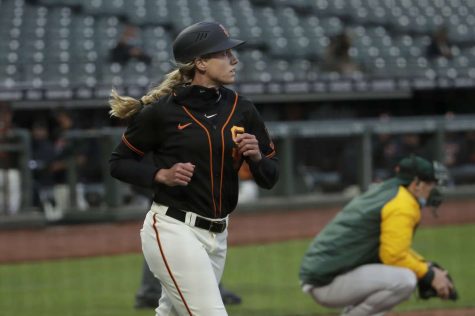 July 21, 2020 – Alyssa Nakken made history by being the first woman to coach on field, something never seen before in the MLB. While even coaching for a major league baseball team was unheard of, the San Francisco Giants' Nakken went a step further by coaching on the field. But she faced many struggles while becoming a coach.
With the rarity of female coaches, Nakken had struggles in following her dream. In an interview with USA Today, she said, "I remember the sleepless nights of being down on myself for not being sure what I wanted to do. Whether you want to coach or be in a male-dominated industry, this shows that if you continue to pursue careers or hobbies you like to do, and you put that passion behind it, doors will start to open."
This inspiring quote shows that even if males dominate a career, focusing on that goal and working hard towards it can help open gateways for success, and opening bridges for others to follow.
Bayern Munich wins Champions League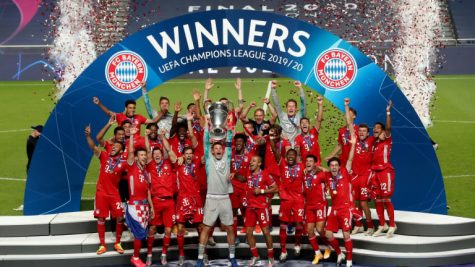 August 23, 2020 – Bayern Munich won the biggest soccer league in Europe, beating Paris Saint-Germain in the Finals. This win was a huge win for them, a crazy sixth win in Champions League history.
Despite being only one goal different, this game was full of thrills and competition, and it truly was not easy for Bayern to pull away. But an outstanding goal from Kingsley Coman, winger, ensured the victory against the tough Paris. The main source of Bayern's success was their phenomenal defense, led by veteran goalkeeper Manuel Neuer. Neuer led the team to a 11-0 record in the Champions League.
Joshua Kimmich, member of 2020 team of the year, said this about his teammates in an interview with USA Today: "When you win a title like this with brothers on the pitch, that's the maximum you can ask for." Kimmich shows the importance of teamwork in this thriller of a game, and keeps us excited for the future in soccer.
Los Angeles Lakers win 17th NBA title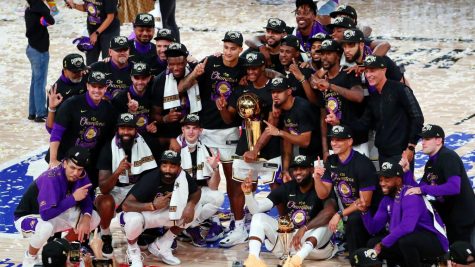 October 11, 2020 – The Los Angeles Lakers won their 17th NBA title on a Sunday night to make history during the pandemic. The Lakers beat the underdogs and upset-setter Miami Heat led by up and coming Bam Adebayo and Jimmy Butler.
Rookie Tyler Herro set records as well, scoring the most consecutive 10+ point games. But the chemistry of dynamic duo LeBron James and Anthony Davis was too strong for the Heat to beat. James won his fourth NBA title and 4th Bill Russell Finals MVP, on 3 different teams.
This was certainly a record breaking run, and he made sure to honor Kobe Bryant. Anthony Davis was Bryant's teammate in the 2012 Olympics, and he had this to say about this win: "Ever since the tragedy, all we wanted was to do it for him and we didn't let him down," Davis said  in an interview with the New York Times. "I know he's looking down on us, proud of us, I know (Kobe Bryant's widow) Vanessa's proud of us." This win was emotional for the Lakers, honoring past Laker Kobe Bryant and adding to their trophy case.
Dodgers win first World Series in 32 years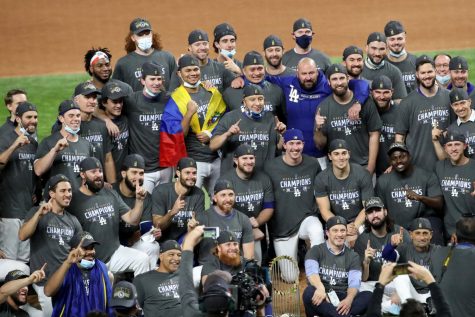 October 27, 2020 – The Dodgers suffered one of the most agonizing droughts in baseball history. The Dodgers have made many trips to the world series, but wasn't close enough to taste the champagne. They have won seven straight divisional titles, but never won a world series. When they had some opportunities, luck was nowhere near. In 2017, the Dodgers played the Houston Astros before the finals, only to lose in game seven. The Astros were later exposed as cheaters, but by then it was too late for the Dodgers. The very next year, the Dodgers lost at home to Mookie Betts, who is now the outfielder for the Dodgers.
But 2020 was their lucky year, their eighth straight postseason appearance. After five games of a long competition, the Dodgers sealed the deal in game six as Mookie Betts hit a double and a homerun to accumulate two points and to undo the drought that lasted 32 years.
"To know what it feels like to lose," said Corey Seager, who was named the Series' most valuable player, in an interview with CBS sports, "and be able to rebuild and come back and rebuild and stay focused, it's special." Ending the drought was a huge relief, and LA fans' 2020 just keeps getting better (for sports).
Naomi Osaka makes statement that Black lives matter on path to winning the U.S. Open 
September 13, 2020 – Tennis star Naomi Osaka honored the victims of racial injustice while promoting health safety and could not have done it in a more honorable way on her way to winning the U.S. Open. Osaka wore seven different face masks revealing the names of victims. Her black masks displayed the following names printed in white: Breonna Taylor, Elijah McClain, Ahmaud Arbery, Philando Castile, George Floyd, Trayvon Martin and Tamir Rice, which she wore Sept. 12 when she beat former women's number one champion Victoria Azarenka in a thrilling 1-6, 6-3, 6-3 victory. Osaka said later she made sure to address the victims who deserve justice, and although she can't for everybody, her intentions were clear and we understood how important this was for her and also how important it was for her to stand up. Asked by a reporter after the tournament what message she wanted to send, Osaka responded: "Well, what was the message that you got was more the question. I feel like the point is to make people start talking." Osaka, who also won the U.S. Open in 2018, made a small but big choice and that choice will show as bravery and inspiration in speaking our for victims of racial injustice.
Argentinian soccer star Diego Maradona's death sparks reflection of soccer greatness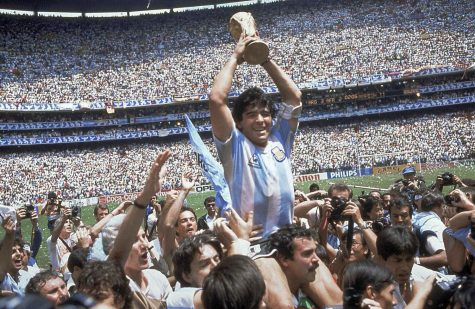 November 25, 2020 – The death of Kobe Bryant may have been enough heartbreak for the year, but the death of soccer legend Diego Maradona at 59 added to our grief. Maradona had been suffering from drug and alcohol abuse, and his recovery, although long awaited, was successful. But Maradona had to undergo a brain surgery, which was a cause of his heart attack. Maradona's unpredicted death was shocking, but we can always remember his skills with the ball. To put it simply, Maradona dribbling the ball was like a bird flying through the air.
The ball seemed to obey Maradona like a pet, following wherever he ran. His skills were one, but his luck never was. He suffered a rough childhood, with barely any money. When recognized for his skill, Italian mobs would threaten Maradona, which increased in severity when Maradona eliminated Italy in the world cup. Maradona then battled addiction, exhibited unsportsmanlike conduct, and eventually retired due to health complications.
However, Maradona still led Argentina to one world cup victory, a hard victory that will be remembered forever.
Vanderbilt University's Sarah Fuller becomes first woman to play in a Power Five conference game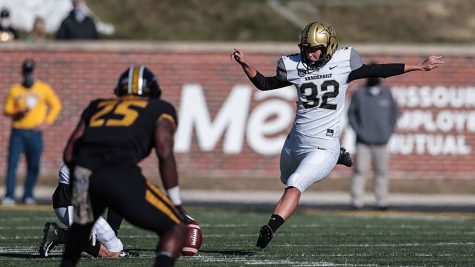 November 28, 2020 – Sarah Fuller made history with Vanderbilt University this fall. A goalkeeper for the women's soccer team, Fuller was needed on Vanderbilt's football team in a game against Missouri due to Coronavirus restrictions and safety protocols that made some players unavailable. One player from the Vanderbilt kicking squad tested positive, therefore everybody in the kicking squad was forced to quarantine.
Luckily, there was a senior soccer player who was offered an opportunity. She wore a helmet that had the quote "play like a girl." She had this to say about the quote in an interview with the media: "It's just so exciting that I can represent the little girls out there who wanted to do this or thought about playing football or any sport, really." Sarah Fuller had no selfish intentions, just to inspire and to be revolutionary.
And as for who won the game…does it even matter? Hopefully Fuller has paved a new way for more women in women's and men's sports, and regardless, Fuller will still go down in history for her bravery.
Sowers, Ng and Hammon break barriers for women in the NFL, MLB, and NBA
Alyssa Nakkan and Sarah Fuller weren't the only women setting records on a field or court. Three other coaches or managers stepped into the spotlight during 2020 in firsts that had many inside and outside of the sports world discussing welcomed cracks in glass ceilings. Katie Sowers, an assistant coach for the San Francisco 49ers coached in the February Super Bowl, a first for a female coach. Kim Ng was named General Manager of the Miami Marlins, a first for the MLB. And two days before the new year, Betsy Hammon took over the coaching duties in the second quarter for the San Antonio Spurs after head coach Greg Popovich was ejected during a game against the L.A. Lakers two days before the end of 2020. It was a 107-121 loss for the Spurs against the reigning NBA champions – but a huge win for women in sports.
The world was shocked by a pandemic that postponed school, spectators and social events, as well as sadness and loss. Although unforeseen challenges abounded and changed the nature of  athletics, athletes and sports leaders didn't falter. They continued to work just as hard as before and it paid off to a successful and memorable year in many ways. 2020 may be remembered as a sad and challenging year, but sports fans know 2020 also contained bright spots and continued to build on iconic moments and people of the nation and world.