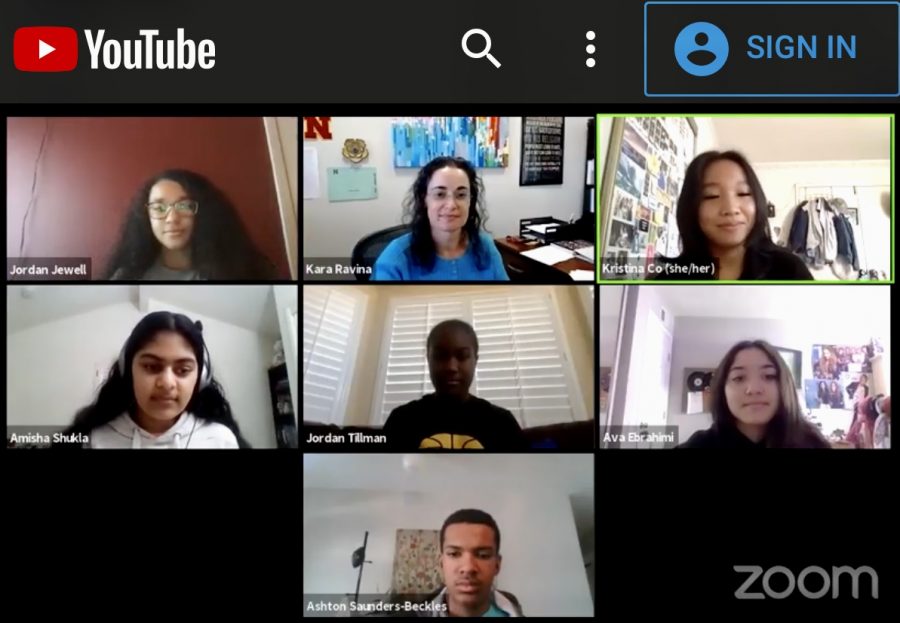 Screenshot/Northgate Youtube Channel
Students plan and deliver powerful panel discussion on racial inclusivity
The discussion ranged from how their race has played a role in their families, social life, and school life. "We tend to go to others that look like us, act like us, and talk like us." - Jordan Jewell
February 28, 2021
Throughout February, Black Student Union members brought the Northgate community highlights of history, achievement, and celebration of African-American and Black activists, writers, thinkers, athletes. All were published and promoted on the school's website, in Wednesday Homeroom classes, and in grade-level Google Classrooms, and may be found on the following link: Black History Month.
As many are quick to point out, the celebration of African-American and Black achievement needs to occur all year, not just during a dedicated month.
In December, a group of students participated in a student forum on racial inclusivity and diversity that covered a wide range of issues and topics. The panel convened Dec. 9 for the second ever student-lead forum, this one on the topic of racial inclusivity. Participating from their homes in a live virtual discussion, the students clearly communicated the need for personal, individual, academic and curricular awareness for diversity inclusiveness.
Kristina Cổ , the senior class president and secretary treasurer, led the forum with the support of Northgate's administration. Junior Jordan Tillman, sophomore Ava Ebrahimi and freshmen Jordan Jewell, Ashton Saunders-Beckles, and Amisha Shukla offered powerful comments and opinions on a myriad of imperative questions on their experiences and observations involving race and diversity in a YouTube live zoom format with a live chat where observers could ask questions and show their support. 
The goal of the forum was to stir up conversations and discussion in a safe and constructive manner, where these students, all from various backgrounds, could express their opinions, as well as give constructive criticism to try and make Northgate a more aware and accepting atmosphere. 
Reflecting after the forum, Tillman, one of the upper grade student panelists, credited Northgate with "taking steps towards being more racially inclusive and aware. I think the forum was a success because it opens up new ideas and paves the way for more similar events – my hope is that while this forum will be behind us the spark the topic creates will continue to burn bright throughout the Northgate community. The work doesn't stop here, with this one forum. These are issues and topics that will forever be present in our community, lives and the world: it is of the utmost importance that we continue to acknowledge them and do something about." 
Cổ, who moderated the forum by asking questions to the participants and who occasionally responded to issues of diversity from her own perspective, said afterward she was pleased with the event.  
"I felt a bit nervous approaching it,"  Cổ explained. "My biggest fear was that this conversation would be met with hatred and that would make our panelists uncomfortable. I wanted to make sure our panelists felt safe talking about their experiences. I felt extremely relieved throughout the forum, hearing these strong voices and also that the YouTube Live was being met with enthusiasm." 
The forum is available on Northgate's Youtube channel on the link https://youtu.be/SOD9ZN1j_Jk  . The following includes some of the discussion highlights and topics.
The panelists responded to a series of questions put forth by Cổ , starting with, what does race mean personally as well as what race each of them identify as.
"Well, race to me is how we divide ourselves, good or bad," said Tillman. "We tend to go to others that look like us, act like us, and talk like us," said Tillman, adding that she identifies as African-American or Black. 
"Race is kind of where we come from, what our backgrounds are, what our roots are, whether it be a very complicated one or a very simple one. It's just simply where we are from and who we are," said Shukla, who identifies as Asian-Indian. 
"For me, race kind of defines who we are whether we want it to or not. Knowing who you are is really important in discovering who you want to be," said Jewell, who said she identifies as Black/African-American and White. 
Freshman Ashton Saunders-Beckles responded similarly. "Race is how you identify based on where you are from, your culture, and appearance," said Saunders-Beckles who said he identifies as African-American/Black. 
One of the powerful parts of the forum was when each student addressed the question of recalling their earliest memory of realizing that differences in race can impact them and others.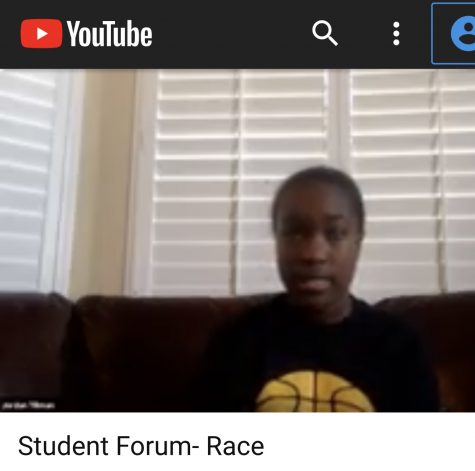 When Tillman was asked to recall her earliest memory, she gave a quick synopsis and explained how when she was five or six years old and playing on the playground with one of her school friends when her friend's mother came to pick her daughter up. The mother went up to Tillman telling her she was not allowed to play with her daughter because she was Black. 
"And that was the moment I realized that I was different from the rest of the kids in the playground," Tillman said. She added that it really hadn't struck her that she was one of the very few Black students at her school until that moment – and that at that moment she realized that she would not be treated the same as the other kids.
Jewell explained that for her, she has almost always been aware of who she is and where she came from ever since she could remember. It was very important for her to be educated and know her own heritage and history, so there wasn't really any specific moment where it struck her. Fortunately, she said, she went to a fairly diverse elementary school where she was lucky enough to not be singled out or feel too different from the others. 
Similar to Tillman's experience, Shukla's earliest memory was on the playground. She recalled how in the first grade she and her friends were playing "princesses" and their current obsession was Cinderella and that "of course," she wanted to play the part of Cinderella. Shukla shared her recollection that one of her friends made the comment "you can't be Cinderella, your skin is too dark." That was the childhood moment that Shukla was also hit with the sudden burst of knowledge that people notice skin color – and that she was deemed unfit to be a princess on the childhood playground.
Impact of race on all aspects of life:
Several different questions were asked and discussed in regard to this overall topic. The discussion ranged from how their race has played a role in their families, social life, and school life. There were a lot of perceptive comments and opinions; however, in most contexts, there was a mutual consensus in all these topics. 
Almost all of the students had the panelists share active conversations with their families about race and racial inclusivity in their community and in the United States as a whole. Conversations were chiefly prevailing during all the Black Lives Matter protests that proliferated last summer after a series of fatal shootings of Black people by police and injustices happening throughout the country, especially for those families with Black heritage and backgrounds.
"Our parents would also talk to us about how to be safe outside and how to act when authorities came up to us, which is not something parents should have to tell their kids how to do," said Tillman. 
The speakers expressed their pride for their heritage and their family. They all said that they had a strong sense of community and were comfortable with their identities. They conveyed that they would gladly go into depth and educate others, highlighting and demonstrating how similar all human beings, regardless of race, are. They expressed how they were saddened at the thought of how some people want to separate themselves from their roots because of the racism they faced, wanting to be more "normal". 
Even Cổ , the moderator,  added her own experiences in this are talking about how she got several "COVID jokes" because of her Asian background and said she was expected to "carry a portion of educational projects because of the stereotype of model minorities." 
A recurring topic was how racial inclusivity not only affects one's home and family life, but it also has an impact on everyday school and social life. For the most part the students said that their friend groups are fairly diverse and inclusive – with the occasional "accidental" somewhat racially insensitive joke. 
Their responses to this? To make sure to let others know when words are offensive and educate each other. Sometimes, talking about these questions brings them all closer to each other as they get to know more about different cultures and traditions.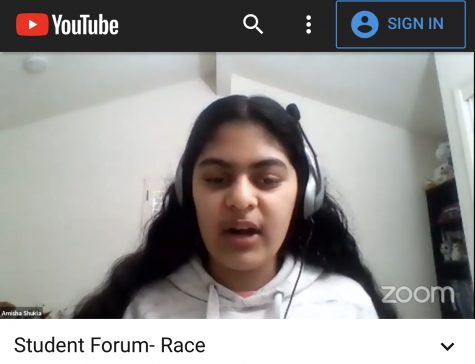 "Just like there are people out there who will make racial slurs at you, there are also people who will accept you despite where you come from," Shukla explained. "It can be nice to have friends that are different from yourself, yet simultaneously accept you and love you for who you are."
Ways race is positively represented at Northgate:
Since many of the participants are freshmen and haven't had the chance to experience what Northgate is really like in-person, they could not speak from much personal experience. However, Tillman and Cổ , who as a junior and senior have attended Northgate in person and have a better sense of what it is really like, said that in their opinions, multicultural week is probably the biggest and most important event of racial inclusivity. Yet even then, Tillman said that she felt as if there could be more representation and inclusivity for her race and for everyone else's, too. 
Negative experiences at Northgate or previous schools:
When asked what the forum participants' experiences are with race having a negative impact on them in a school setting, whether that be Northgate or previous school, both Tillman and Jewell shared their stories. 
Tillman said that there have been many occasions where she has come across someone calling her the "n-word", a racial and highly offensive slur. "The first time, ok, maybe I'll ignore it. The second time, well, it starts to get me a little bit annoyed, but if they continue to throw the word around time and time again, I have the right to stand up for myself and also bring it to administration," Tillman explained. 
On another occasion, a substitute teacher was blatantly insensitive and uneducated when she came up to Tillman and asked her "Your name is Jordan? Well that's not a very African name." Tillman described how she "politely but slightly peeved" responded by saying that she was an American. However the substitute continued to tell her that she should have a name more fitting to her "culture". 
Finally, she also expressed her frustration when reading a book such as To Kill a Mockingbird, which contains the use of racial slurs throughout the book. All the participants agreed on how having this older literature and knowing what life was like back then is essential; however a warning, or a heads up from the teacher would be more appreciated. 
Tillman said she would also appreciate if the other student wouldn't turn around to stare at her when slavery or racial slurs were talked about because she feels "singled out" and "very uncomfortable". 
Jewell also shared her experience with a teacher from her previous middle school. She recalled how a science teacher who "loved to relentlessly pick on" Jewell every single day just because of her Black heritage. He wouldn't give her the same opportunities and repeatedly made racist jokes. 
"It was very hard to ignore. He even encouraged other students to throw away my papers, and if I wanted a grade, I'd have to get it out of the garbage and give it to him," Jewell shared. 
Implementing change – ways that Northgate can get better and be more racially inclusive:
When the panelists were asked in what ways does Northgate have room to grow and improve, most of the panelists had similar views. They said how they would like to see more events, such as the forum that was held, and a greater variety of different races, heritages, and histories implemented throughout the curriculum. 
They talked about how even though it is great that Black History Month, in February, brings diversity to the forefront but that it is only a month and then everyone moves on and forgets about it. Instead, Northgate should work to diversify curriculum and weave everything in throughout the school year. Some panelists said they would like to see more in depth history as well where the content is more racially inclusive; one panelist felt as if the history being covered is only "barely scratching the surface."
Panelists said they would love to see more diverse books, movies, and overall curriculum that is not so European-based and gets different perspectives of people from all backgrounds, as well as a more active effort to reach out to the students, especially from minorities to get their opinions/comments. 
Additionally, the student participants expressed how it is crucial to educate people on issues of diversity and inclusion at a young age instead of starting in high school.
"We, our generation is the future. We need to start educating at a young age because most of us have our minds made up by the time we get to high school," said Tillman passionately. "High school should be used to reinforce these ideas and values, not start building them." 
When asked how she thought the student forum went and what her insight is looking back on it now, Tillman responded positively. "The forum on racial inclusivity was very productive. My fellow participants shared wonderful insight and perspective as well as personal experiences," she said. "Kristina, Ms. (Principal Kelly) Cooper, and Ms. (Vice Principal Kara) Ravina were very encouraging and helpful and did an outstanding job running the event from behind the curtain. As far as the needs of our school and the Northgate community, like all communities and institutions, there is always room for improvement and as long as we keep that in mind we will be on the right track."
Cổ was equally enthusiastic, with an eye to the future.
"This student forum, I feel, is one of many important steps our school took to being more inclusive and anti-racist," she said after the forum. "The conversation of racial inclusivity will not and should not stop here. I am currently working with Northgate admin to create solutions based on the suggestions from our panelists. The most popular answer to our question on what Northgate should do next was that our school needs to take the necessary steps of diversifying our curriculum. I cannot emphasize enough how crucial I think this is. When you encourage the implementation of all voices in classrooms, you are giving students the opportunity to reflect on narratives that are often ignored. These perspectives can humanize minority groups, bring pride in differences, and make students learn from history's mistakes to ensure we do not repeat them."