High school sports teams – all 25 of them – are back in action
Friday night lights returns to Northgate in an exciting April 2 win, bringing the football team to 3-0; dozens of games and matches in every sport are scheduled for this mega spring athletic season
After a seven-month delay, high school sports is suddenly in an end-of-year mega-season with every school team practicing and competing – or about to compete – in a modified sports season that almost didn't happen.
"There are 25 different teams," Vice Principal Craig Bocks earlier this week. "We will have girls and boys playing every sport between February and June."
A calendar of events is available at https://www.northgatebroncos.org/.
Many teams have practiced since August, or on and off during the year, while waiting for the go-ahead for competition after all sports shut down due to the pandemic. February marked the green light to compete once Costa County moved back into the red tier, a method of evaluating the cases of COVID-19 in the state's counties.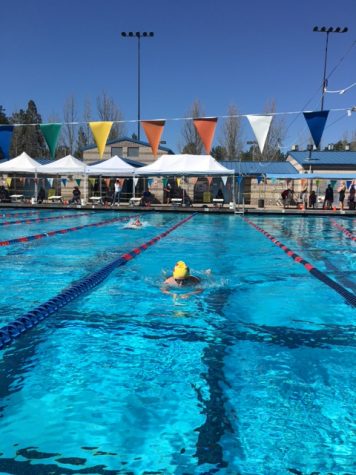 The simultaneous play for all of Northgate teams, which are usually spread out over three sports seasons from August to May, is a first for Northgate. It requires a shortened season, sharing the practice field in some cases, fewer practice time for some and a carefully tracked school plan for where the teams are competing.
For example, events for Thursday, April 1 included the following afternoon competition: Varsity Softball at Clayton Valley Charter High School in Concord; Varsity and JV Girls Lacrosse at Clayton Valley; Boys Varsity and JV soccer at Ygnacio Valley High School in Concord. Tuesday April 6.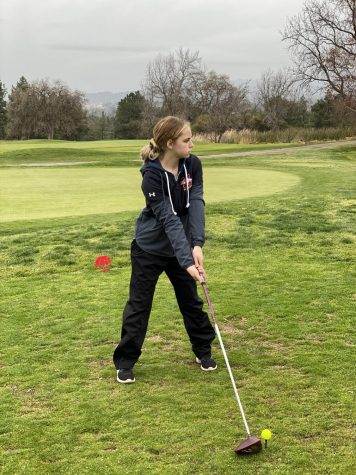 The girls' and boys' golf teams were the first teams to start competition in late February, followed by cross country. Usually girls golf as well as cross country would be in the fall season.
Swimmers started training Feb. 8 and their season culminated March 27 with their first – and only – swim meet, an all-day championship meet for Diablo Athletic League teams including Las Lomas, Miramonte, Campolindo and Acalanes high schools.
"It felt nice to be back in the water and to end my final season with a meet surrounded by my teammates," said Margot Smethurst, a senior captain and member of the team all four years.
Friday April 2 marked the return of football, normally held in the fall, to the home field with Northgate's exciting 23-19 win against Vallejo's St. Patrick High School. Friday night was also "Senior Night," a tradition for every sport in every season and team in which graduating seniors are recognized. Northgate honored all senior football players, members of the Sports Medicine program, cheerleaders and dance team members.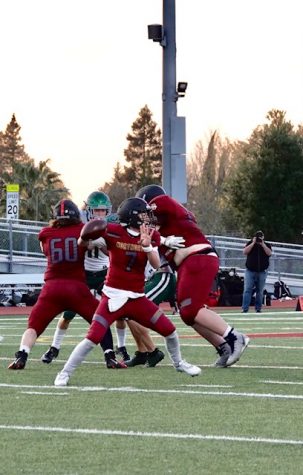 The game could not have gone better if scripted: The Broncos scored in the last minute with a handoff from senior quarterback Joe Fulp to to halfback Lucas Thompson, who scored. Thompson, a junior, also kicked the extra point. On the next possession, a St. Patrick player ran a reverse and broke free, to be chased down and tackled by safety Robby Keyser.
"It felt amazing to play after such a long off season," said Keyser, a senior. "Playing at home was great because having fans there for Senior Night brought a different energy to the game that I didn't think I was going to experience this year. I am really grateful to all the coaches, staff and volunteers who made it a memorable night."
With the Friday's first home game, cheerleaders also performed on the sidelines as usual, and at halftime. "I'm very excited. It feels to be cheering at home and to be back at my home school where parents can come and watch and closing out my senior year here," said senior Grace Smith, who is one of the three cheer team captains. 
"It was a nail-biter game," said parent Sue Smith, mom to Grace and to senior, Raymond, who was one of several Senior Night parent organizers. "It was a perfect end to our season opener for Senior Night."
The football program has been in steady practice since late summer. Varsity Head Coach Ben Ballard, also the school's Athletic Director, was a strong community and regional force in getting football and all sports, including cheerleaders, back.
Senior Andrew Daigle, who plays multiple positions including receiver, linebacker, defensive end, tight end, and running back, said this year has been like no others. "The team this year is stronger than ever and we have been rigorously training for the last eight months straight for this moment. It's been very rewarding to get back on the field knowing it's all been worth it and to see the fruits of our labor," he said.
Daigle says the wait has been worth it to begin competition, a springtime first for football. "Despite seeming interminable, the time has given us the opportunity to prepare and prepare well. Aside from that, people have had time to focus on their lives and work and branch out into what will soon be the real world for many of us," he said.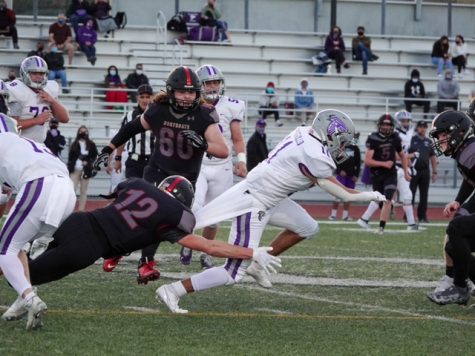 Asked if he is a team captain, Daigle said he is one of 11: "We are honoring all of our seniors as captains every game," he said. The others are: Kyle Mahoney, #1; Joe Fulp, #7; George Ziegler, #10; Robby Keyser, #20; Jared Collins, #42; Cooper Champion, #60; Justin Allen, #61; Tesini Ma'ake, #72, and Mikey Mainer, #88. Daigle is #12. The team plays again April 9 and 16.
Cheerleaders almost didn't get to perform when the California State Department of Public Health recently ruled against it, citing concern of too many people on the sidelines, said Kourtnie Howerton, who oversees the dance and cheer teams and teaches dance and Leadership. "The CIF (California Interscholastic Federation) and district athletic directors pushed for them to be allowed at the games," she said, and the state then reversed its decision two weeks ago.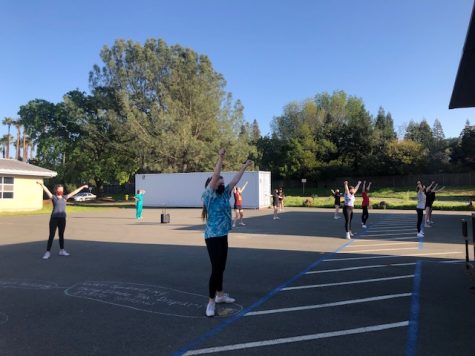 Spectators for all sports may have a challenge in watching their teams and friends play in person. The limit is "two spectators who live in the household of the player," said Bocks when asked about who may attend. 
Although restrictions exist on spectators, Northgate is working to showcase as many sports as possible. The school is streaming all of the stadium sports, which right now includes football, girls lacrosse and boys soccer. Boys lacrosse and girls soccer will start later, and it's possible that sports played in the gym will also be streamed, Bocks said.
Some multi-sport athletes who have typically played two or three sports spread out over fall, winter and spring have had to choose between sports if their teams are now playing at the same time, since students may only compete on one team.
Junior Kristin Saunders fell into this category. Previous years, she played water polo in the fall and basketball in the winter, and she ran track in the spring. They are all occurring at the same time this spring and she has a decision to make.
"It was definitely difficult to choose which sport to play, because I love all of my sports and my teammates," Saunders said. "For water polo, we had been told that our season probably wouldn't happen so when it was given a start date, that meant I would have to make a decision that I didn't anticipate having to make."
Currently running track, Saunders will switch to basketball and forego water polo, although she trained with the team in the fall. "The biggest factor in my decision ended up being the fact that I have run track and played basketball at the varsity level since my freshman year and participating in these sports since elementary school, which made them my top priorities," she said.
Other students are able to fit in playing for two back-to-back teams with six or seven weeks with one team in early spring, and then six or seven with another in late spring. One of these students is senior Ainsley McNulty, who finished swimming March 26.
"The highlight of my season was definitely Friday at prelims," McNulty said, referring to the Diablo Athletic League five-team meet. "I got to see a bunch of people who I swam with from other schools and was excited to finally be able to compete. Next I have water polo season, which is super exciting to be able to compete finally after a year," said McNulty, who is a team co-captain.
Like McNulty, Kyle Moreland is able to fit in his two sports, but not in the usual order or seasons. "I usually do water polo and swim at Northgate. I am thankful that I was able to do some water polo camps in the winter, swim in the early spring and start water polo again this week," said Moreland, a junior, on April 2. "It feels great to be able to have a season when in January we thought we weren't going to get one."
Senior Tanner Blatter also started water polo training in December and after a short break, started the official season this week. "Even though it's not a regular season, it's great to be back playing with the guys again. It's good to finish off strong because so much was unknown," Blatter said.
Lacrosse teams are working their way into a practice rotation with other teams that use the sports stadium, including football, track and soccer. The juggling of practices has led to some teams having fewer practices in a week, or shorter training sessions. Girls' lacross is currently in competition, and the boys' team is training.
Connor Moreland is pleased to be back to playing lacrosse for his third year at Northgate and fourth year in the sport. "While there is still a little bit of uncertainty surrounding the season and game dates, I'm still very excited to play," said Moreland, a junior and brother of Kyle Moreland.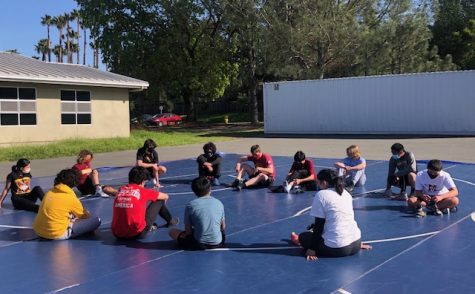 Freshmen say they are glad to be able to join a team in a year that looked like it might not happen. Owen Hansel thought he might not get to experience any sport in his first year of high school – then he made it into the water with the swim in February and, when that ended March 27, the wrestling team.
"It was a relief to have something go as a normal year would, no matter the adjustments," Hansel said.
The wrestling team is not practicing indoors, and team members start each practice by carrying the mats outside to a spot near the back portable classrooms and garden.
The team is also one of several, including football and water polo, where players are required to get weekly Covid tests before games or matches because of the close contact of those sports. Northgate has also opened testing weekly to all athletes, students and staff who wish to be tested.
Meanwhile, tennis is also in full swing. The girls' season usually held in the fall is taking place now, at the same time as the boys' regular season.
Sophomore Madison Chua is excited for the season.  "Overall, it feels great to be playing. I know I'll have a horrible mask tan line, but I've met new people and can't wait until the matches begin!"
Junior Sofia Kohn said matches begin April 22, with some modifications to the season.
"Even though it's been delayed it's been nice having something to look forward to," said Kohn, a third-year player on varsity. "Going to practice, getting outside, and socializing has been a good way to break up the day between school and homework. The obvious change is playing in the spring instead of the fall, as well as having a shorter season. It ends on May 6th. We're also only playing each team in our league once instead of twice like usual. For matches, we can't read our lineups or shake hands with the other team in the beginning and end. Definitely a more distanced season, but still going to be a fun one."
With 25 teams, it is nearly impossible for the Northgate Sentinel to reach players on each one – feel free to contact a Sentinel editor at [email protected] with a news suggestion, a contribution to this article or with any tips.
A calendar of events is available at https://www.northgatebroncos.org/. Also see the NHS Athletics Newsletter at https://www.smore.com/s6dua-nhs-athletic-news?ref=email