Suspicious person near campus prompts brief schoolwide lockdown
Students react to unexpected lockdown with heightened awareness in wake of nationwide school shootings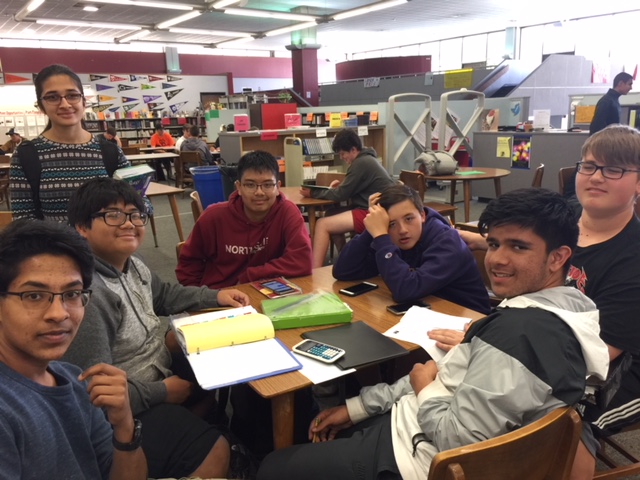 Jack Wise, Co-Editor-in-Chief
June 1, 2018
"Scary. Was that real?"
Those were Camille Serrano's first words moments after she and other students were released from the multi-media center in the library after a schoolwide lockdown.
The senior, who has an open sixth period and was at a table with others in the library, was among the students and staff in the multi-media center who hunkered down for about 20 tense minutes of silence throughout when the school was ordered into lockdown mode May 15.
An administrator's unexpected announcement at about 1:20 p.m. ordered the school into a lockdown, ending with "this is not a drill." The all-clear announcement came at about 1:40 p.m., 15 minutes before the dismissal at 1:55 p.m.
School officials and Walnut Creek police followed soon after with emails and on social media to explain that the instruction was given due to a suspicious person outside of the school, and that there was no safety threat to students or staff.
In an email sent to Northgate families at 2:00 p.m. that day, Principal Michael McAlister said the lockdown came at the request of the Walnut Creek Police Department. An email later in the day from the Walnut Creek Police Department provided more information, including the arrest of a man near Northgate alleged of leaving a stolen car in the Northgate back staff parking lot.
"It appears the suspect arrived at the school in a stolen vehicle and ran out of gas," Walnut Creek Police Lieutenant Sean Conley wrote on the site Nextdoor. "He was not there to hurt anyone, but had no reason to be on campus."
Follow-up reports stated that several staff members encountered the man, who asked to use a phone, outside of the school. Denied and deemed suspicious, campus officials contacted police after he started walking away from campus with a duffel bag. Police contacted him on a nearby trail, away from the campus.
"The students and staff did a great job in our lockdown," Vice Principal Ben Campopiano said, reflecting on the incident a week later. "They took it seriously, they followed instructions and they stayed calm." He added  that administrators said they are reviewing the school response and seeking feedback from students, staff and parents.
"I think as a school we did well. We did what we had to do-we took cover," said senior Haris Ahmadzi, who was in the multi-media center in the library when the announcement came. "We handled it pretty well, especially with what has gone on around the country and the school shootings."
Freshman Micky Rajecki was in biology when the lockdown took place. "My classmates and I experienced more (visually) since we were right near where it happened," she said. "We could see all the teachers talking." Rajecki added that she sensed worry from students and staff in the school.
"I was impressed at how well everybody did, and especially how quiet it was and how seriously everybody took it," said Jackie Hartwig, a substitute for art and design teacher Michelle Carson, who was with students in the multi-media center.
"I was so proud of the kids," said frequent substitute Yvette Belisle, who was filling in that day for librarian Rula Kassicieh.
Some students said tension was high in classrooms, and many citing heightened concern over school intruders and shootings in schools nationwide. The Parkland, Florida school shooting left 17 dead in February, with several more since. Three days after Northgate's lockdown alter, a shooting in Santa Fe, Texas, resulted in 10 deaths and a teen from the school arrested as a suspect.
Meanwhile, Ahmadzi said from his vantage point in the milti-media center, which held students and teachers from the library and technology center, all was quiet. "You could hear a pin drop," he said. "It's a lot different when you rehearse the drill, but when it's real there is a shock factor."