Winter One Acts
The Winter One Acts were surprisingly hot with comedy and drama when it was performed for students and parents at Northgate Little Theater on February 2nd.
The play was composed of five different acts, "Oink Oink Officer", "Defined", "Three Weeks", "Hands Up", and "Tender". All of the acts were composed, produced, and directed by students.
"We started in early November, we led a mini writing class where students submitted stories and voted for the best ones," said drama teacher and director John Litten.
Each act was written, produced, directed, and performed by students and many different student writers. The plays took radical changes from what the audience saw due to the compression of time and parameters of each act. Decisions for each act and what to keep and cut was mostly up to the writers.
"The whole process took several months to put the shows together from start to finish, and once we got ready to perform, students designed sets, costumes, makeup, hair, etc.," said senior Corrine Allen
When writing the dialogue, the writers made it naturally driven so it sounded casual when you first listened, then hit the audience with theatrical dialogue in other acts. A lot of time was put into the themes of the acts.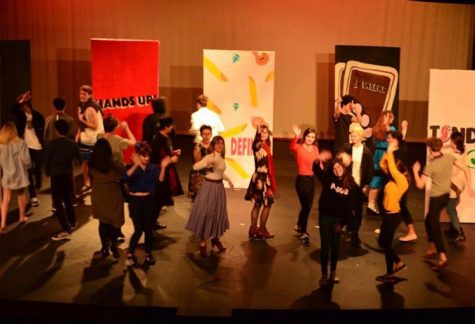 The outcome of the play was beautifully put together acts of Comedy, Drama, and Serial Comedy. One act in particular, "Hands Up", included a message on bringing attention to the issue of gun violence and school shootings in our country.
"They took risks, and I'm extremely proud of them for creating this monumental project," said Litten.
While the plays were comedic and dramatic, they mirrored real life issues such as the message calling attention to gun violence in "Hands Up" or the cycle of women addiction in "Defined".
"I thought the themes were very appropriate in today's world, and the play displayed their messages of the world's problems very well. I'd love to see what else they come up with," said sophomore Matthew Wade.