Link Crew Guides Freshmen
The supportive students in Link Crew aide Northgate's new freshmen in adjusting to their new surroundings and responsibilities at Northgate
Link Crew is a group of people that introduce freshman to Northgate. They assist them with academics, high school experience, and more. This year, the upper class Link Crew leaders are showing the freshmen the ropes of high school. The leaders meet every Friday with their group of freshmen, that are assigned to them, to help them with schoolwork or to relieve stress by playing games. They can also have their freshmen contact them anytime to talk or ask questions.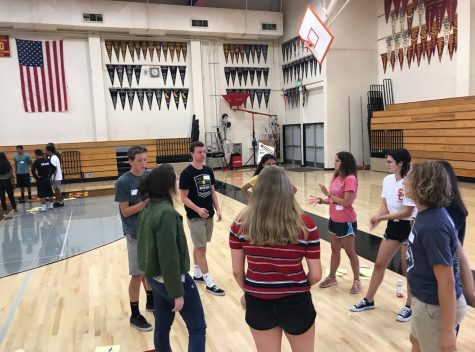 Students find this convenient, because according to Senior Gracie Benhamou, "It's easier to talk to a student instead of an adult, it's more comfortable."

Every Friday, Gracie helps a group of freshmen students with their schoolwork. She joined Link Crew to become a leader and to set an example for the students new to Northgate.
Link Crew has been around for five years at Northgate High. Managed by Melanie Scott and Todd Bauleke, it has helped introduce students to their high school years.
"Our goal is to link up the freshmen with upperclassmen so that we can help guide them through their first year of high school," says Link Crew coordinator Todd Bauleke.
Link Crew is introduced to students during their freshmen orientation. It is there for them to thrive academically, and to be acclimated socially. It also covered the topic of bullying. The goal was to make freshmen more comfortable at Northgate.
"They help me with classes and they usually try to encourage us.They provide moral support," said freshman Jeremiah Fray.
Link Crew isn't just to assist students with high school, it is designed to be very inclusive and compassionate to all students.
"With Link Crew, freshmen will have more knowledge of what's happening on and around campus," said Bauleke.
The community and the school as a whole has been united under Link Crew. It has been more than just a program, it is a tremendous positive impact on Northgate's campus, students, and teachers.
"Link Crew connects all the students of Northgate. It is one of the best things about this school," said Benhamou.