Blend of skill, harmony and technology create stunning performance featuring all of Northgate's instrumental music groups
Northgate's instrumental music groups have performed often over the years at the renowned Yoshi's Jazz Club, at the prestigious Monterey Jazz Festival, at numerous California State University performance centers, at Disneyland and along numerous parade routes stretching from Napa to the Santa Cruz Boardwalk and beach. However, this month's performance featuring six musical groups might be one of the most creative and memorable ever. 
More than 100 musicians under the guidance of director Greg Brown rose above the difficulties of distance learning and created the school's first-ever virtual concert, which premiered March 27, and remains available on Northgate Band's YouTube channel.  Many musicians, their families and friends watched the live premiere; others went to the Zoom watch party, and more still enjoyed it after the fact.
Every student musician from every ensemble at Northgate – Concert Band, Symphonic Winds, Jazz Bands I and II, Orchestra and a jazz combo group – worked hard and learned new skills in order to record music from the confines of their homes. Each group performed one piece.
Watch Northgate Instrumental Music's virtual concert here, or at bit.ly/ngmusicyt.
"It was very enjoyable and I could tell each of the ensembles did their very best," said sophomore Teresa Huancas, a student who attended the Zoom watch party for the concert in support of her musician friends.
"I was very glad that I got to share the concert-watching experience with others. It made me very happy that in the chat, everyone was complimenting the musicians and the soloists," said Tatiana Avdienko, a freshman bass player in Jazz Band II and Orchestra, who attended the Zoom watch party for the concert.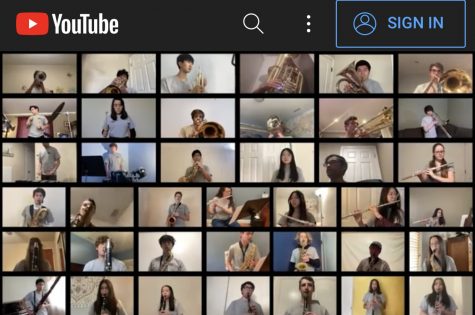 Sara Wu described her ensemble's performance. 
"The Symphonic Band and Wind Ensemble combined to form the Symphonic Winds, and we're playing a piece called Undertow. It was selected out of convenience for online recording," reported senior Wu, a flautist in Symphonic Winds.
"We had to learn how to record, which most of us hadn't done before, as well as use the online recording and editing program BandLab," she added.
JR Zaha, a senior pianist and bassoonist in Symphonic Winds, explained how the editors worked with the student performance videos.
"BandLab is a DAW, which is a Digital Audio Workstation where you can edit audio. You can also add various effects such as reverb, EQ, distortion, saturation, and many more audio effects. We also had to learn the proper procedure on how to record our instruments with an external microphone," Zaha said.
Senior Almeera Siddiqui described her experience with the new concept.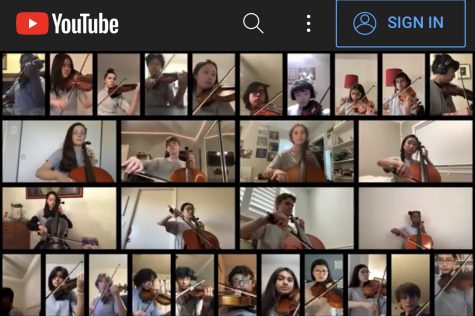 "To record, we needed only decent headphones and a recording input device, whether it be on your computer or anywhere else," said Siddiqui, a violist in the orchestra.
"The hardest thing was having good sound quality, depending on whether I used different devices," she added. "The orchestra's piece, 'Dance of the Harlequins,' was not difficult, though."
"In combo, we played 'Donna Lee', a fun, up-tempo 'be-bop jazz' song," said Matthew Stark, a sophomore who plays the saxophone in the small jazz combo and in Jazz Band I. "The hardest thing about recording this from home was getting the recording as good as or better than the original recording of the piece. If one person doesn't perfect their part, it is very obvious on the recording. This changes the results from jaw-dropping to just another high school band."
Zaha explained his experience of creating and performing music from home. "When I create my own music on my laptop, I use the skills I've learned from recording with Jazz Band I. I know that some other people in Jazz I are in other bands outside of school, and they also have to apply virtual recording skills for their bands," the pianist said. 
"I am very happy that Mr. Brown had us do a virtual recording. I was hesitant about the idea at first, but the process is fun. This year would have been very boring if we didn't do this," said Zaha. "I will definitely use these skills in my future life. I plan on being a music composer in the future, so these skills will definitely come in handy."
Others were equally enthusiastic.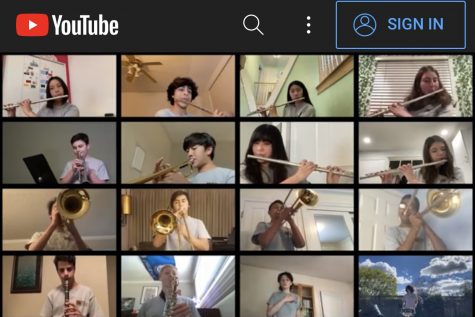 "I had a good experience with virtual recording overall," said Siddiqui.
"I am really excited for it, and I had fun!" said Lia Simon, a freshman flautist in Concert Band.
"It is a unique experience to see the band get recorded on audio and video in a professional manner, and it was an enjoyable process," said Stark. 
"I am very excited to hear the final product, and I hope that others will enjoy the music that we played," said Avdienko.
Greg Brown, Northgate's instrumental music director, although unseen in the performance video as a conductor led all of the groups through distance learning rehearsals, and he introduces each group and the pieces they play.
What was it like behind the scenes?
"The whole experience of virtual recording was super time-consuming," Brown said. "The virtual recording actually became our biggest project, in terms of the time spent doing it. We began before the end of the first semester and are running all the way through the second semester. This project was more work than anything I've ever done, minus our biannual Southern California trip." 
"There was also a lot of communication involved. That was the most work, being the liaison between the seven audio engineers and video editors, and communicating with the students," Brown said.
"The most difficult decision I've had to make was telling a student to re-record their part. It's a lot of work to record, so I try to be flexible," said Brown, who will retire this year after more than two decades at Northgate and many more as a director. "Distance learning is not what I signed up for when I began teaching music. But as I reach the end of my career, I have found I still have more to learn."
Sebastian Zamarripa, a junior trombonist in Jazz Band I and euphonist in Symphonic Winds, is a student leader for the program's virtual recordings. He spent 23 hours editing and producing the audio for the orchestra.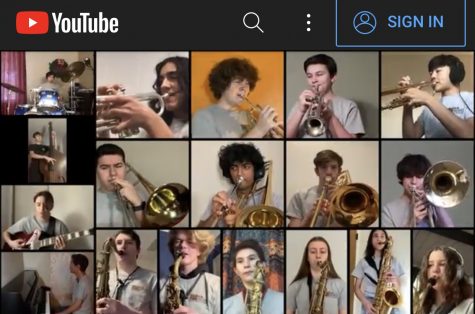 "I brought forth the idea to Northgate of virtual recordings from my previous online ensembles. I helped the adults and students involved in the project to get acclimated to the digital music environment," Zamarripa said. 
"It was really important to me for Northgate to still have our music in some way. I felt robbed of our platform to create and share music with others. So, I wanted to have something tangible to reap the rewards of our work and be heard," he said. 
"Luckily, I had the experience with virtual music before the school year started," added Zamarripa, who also performs in other jazz groups outside of school.
Zamarippa explained some differences of creating a performance through individual recordings, which many groups from students to professionals turned to over the past year during local to worldwide quarantine and social distance orders.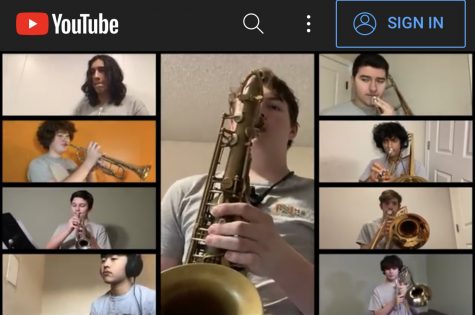 "Music online is not the same as real life. Even though our musicians are held to a really high standard, we still can't react to other musicians in real time as we would on stage. It's hard to make a cohesive sound as an ensemble right off the bat without any corrections," he said.
Brown and student performers expressed appreciation for parent Ken Lafredo, the concert's music editor. His freshman son, Ben, performs on trumpet with Concert Band and Nick, a junior, is a trombonist in Symphonic Winds and Jazz Band I.
"I don't think it would do justice to our program and the talent within it without the immense amount of production the students and engineers did. We're capable of amazing things, and with distance learning, it's necessary that we have the help of this technology."
Zamarippa said he is pleased with the outcome. "Even though it was a lot of work, I stayed motivated through it because I knew what it would mean to a lot of people and a lot of families to see the program still thriving," he said.
With the full effort of the director, all the musicians and adults supporters involved, thrive it does.