Northgate alum describes her many experiences as a professional journalist, including getting tear-gassed at mass protests and asking hard questions while reporting
2011 grad shares path from high school journalist to KATU TV in Portland with current Sentinel newspaper staff members
Not many people get doused with tear gas while on the job and are expected to keep working. That was the situation for a former Northgate student who is now working as a journalist.
Megan Allison found herself in the middle of protests last summer at the Portland state capitol building.
"We got tear-gassed multiple times. It was really scary," said Allison during a March 10 visit on Zoom with Northgate's Sentinel newspaper staff. 
Believe it or not, this is only one of the crazy things that journalist Allison has experienced while on the job – but she didn't start her career at protests. 
Allison shared how she was a student at Northgate where she wrote for the Sentinel and started considering a career in journalism her senior year. For her Senior Project, she followed her passion and began to feel like journalism could be something that she could make into her career.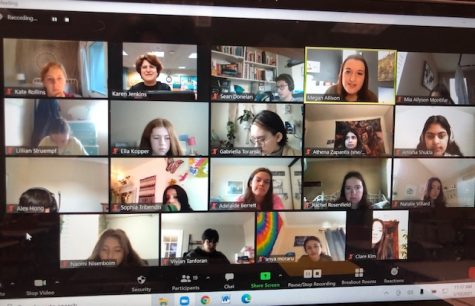 "I was in journalism like you so I focused my Senior Project on shadowing newspaper and TV reporters and got an idea of the difference and what goes into the day to day," she said. "I really loved the TV side of it."
After graduating in 2011, Allison went to Boston University, where she majored in journalism and expanded her experience. She began to learn ways to start getting into the TV side of journalism and reporting. As her interest grew, she immersed herself in many clubs and classes and started writing for her school paper. She found a way to put her foot in the door and started looking for ways that she could get on camera, which included a summer internship at Oakland's KTVU TV. 
Her first job was in Medford, Oregon, then in Tulsa, Oklahoma, then finally to Portland, Oregon, where she currently resides and reports for KATU TV. She has delivered hundreds of broadcasts.
When asked what her favorite part of being a journalist is, Megan replied, "It's never boring! There is always something new to report and research about." 
She said her favorite topics to cover are "whatever is happening that's important to people." She has done a lot of reporting about the weather: tornadoes in the Midwest, storms, rain and wildfires on the west coast, and said that "weather drives news." Some of her favorite stories to research have been teacher walkouts in Oklahoma and educational related issues. She says she made connections and relationships during that issue that led to many other education-related stories. 
Her key to success is connecting with lots of sources and creating relationships with people who can inform her of a potential news story, or who will come in and do an interview for an article. In her first year in Portland she covered ice storms, the coronavirus pandemic and its impact on people and businesses, civil unrest, and protests and events surrounding the 2020 presidential election.
"This year has been crazy, but it has been a real treat," she said. "What I cover is often driven by the moment, but that's what I love about the job."
One of her most exciting and dangerous experiences while on the job was last summer, during coverage of the Portland protests after the death of George Floyd while in police custody in Minneapolis. She and her photographer found themselves at the state's capitol in the middle of a very dangerous scene.
"There were times we were reporting from 10 p.m. until about 3 a.m. and we were downtown while a lot of this was happening," she said. "There was a time someone threw a ladder over my shoulder that smashed a window – people were walking out of stores that they had looted. It was really intense."
Allison described the directions from her supervisors at KATU: "I told my producer 'I'm scared, I just got tear-gassed.' It feels like pepper spray in your eyes. They said, 'Okay, wipe out your eyes, make sure you feel safe and keep going.'"
When she was younger, Allison didn't know that she wanted to be a journalist but said she always enjoyed public speaking and writing. When she started doing desk jobs for internships, she knew she wanted the active part of reporting.
Asked how she handles uncomfortable situations when she has to ask tough questions, she said it takes confidence and perseverance. "You're going to get people who are angry at you for asking the tough questions. It's hard if you're a people pleaser."
She told about a time when she was investigating a member of a city council over some questionable funding issues. "I asked him some tough questions about it and he tried to derail me and say, 'I know you're just a young journalist trying to get your footing in this town'. Personally, I found it a little sexist – I just stood my ground and kept asking the questions." 
A tip she gives to young journalists? Always be an impartial spectator to the scene.
Allison spent about 45 minutes meeting with the Sentinel staff, which has 18 student members.
"It was amazing to see someone who shares the same interests as me – and our whole group – be so incredibly successful," said Editor-in-Chief Adelaide Berrett, a sophomore.
"What a thrill to hear her share her career path, experiences and enthusiasm for journalism with this hard-working group of student journalists," said Sentinel staff advisor Karen Jenkins, who had Allison as a creative writing and journalism student for four years. "Her broadcasts are wonderful."
Allison left no doubt that she has made the right choice in profession. "I have a lot of friends that have gone into corporate jobs and have left news because it's less stressful and the money is there and I get that 100 percent, but I hate being bored so I'm still doing this," she said.
"I enjoy having a job that feels like it's something that matters and is not boring," she said. "This industry is tough – but if you love it, it's totally worth it."
Find Allison on Twitter @mallisonkatu and on Facebook at Megan Allison KATU.