The Ukrainian crisis from the perspective of a Moldovan
Mы 3а Mир – We are for peace
What started in Ukraine last week startled everyone: Ukrainians, Russians, and the world as a whole.
That day, Russian President Vladimir Putin invaded Ukraine with Russian forces, an unprovoked attack that many are calling the world's darkest day since World War II. Thousands of Ukrainians – more than one million as of March 2 – have fled to neighboring countries in search of safety. 
One of these neighboring countries is Moldova, my home. 
I am Moldovan and Russian. My grandparents live in Moldova, their siblings in Russia and our family's close friends in Ukraine. All three of these countries used to be a part of the Soviet Union and their inhabitants are considered the same народ. In Russian, the word народ, pronounced na-rod, means "united people." 
Now seven days after the invasion, on March 3, a convoy of Russian military vehicles 40 miles long approaches Ukraine's capital, Kyiv; the number two city of Kharkiv is battered and under siege; and hundreds of Ukranians and an unverified number of Russians have died.
I am part of that narod
Although I am 6,000 miles away, I am a part of that narod and my heart goes out to all of the people in those countries, including my grandparents, aunts, uncles, friends and even strangers. Protests are taking place all over the world to demand peace. People worldwide, from the United Nations to distant neighborhoods, are doing what they can to help the refugees from Ukraine. Many are donating resources, offering houses, protesting and shedding light on the situation.
In the 21st century, no one imagined seeking shelter in metros and having their homes destroyed. I spoke this week with a friend whose relatives are currently in Ukraine to better understand the situation.
My family friend from Ukraine, Ludmila Kupruanov, lives in San Francisco and her sister in Ukraine. Ludmila's son and mother flew to California to visit her earlier this year. They were supposed to return to Ukraine in the beginning of February but decided to stay until March because the political situation in Ukraine was simmering. "We thought that by March, everything would be calmer, but a war started," Ludmila shared with me on March 2.
Ludmila's sister lives in a town called Kremenchuk. "The war actions have not gotten to them, but when planes fly from the enemy side in the city, sirens are constantly turned on and people run for shelters," she said. Ludmila's niece studied in Kyiv during the first attack on Feb. 24.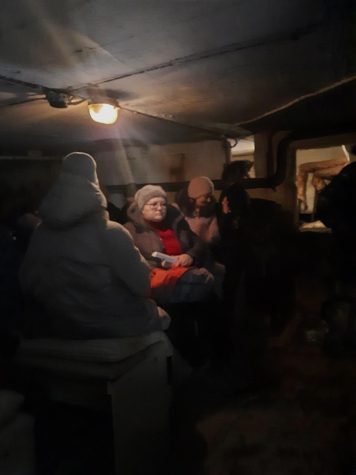 "She woke up from powerful explosions – all students were evacuated to bomb shelters," my friend said, adding that there was huge traffic on the road and panic all throughout the city. Her niece arrived safely to Kremenchuk by train the next day. 
 People need to know what is happening
"Now she volunteers to make Molotov cocktails and weaves camouflage nets," Ludmila said. "The city and all the people are preparing to meet the enemy…they will not give up. People need to know what is happening, because many know nothing."
I am aware that many people from Russia lost their support of Vladimir Putin and my family friend, Natasha S., who asked me not to use her last name, explained this to me earlier this week. Raised in Georgia, a country that used to be a part of the Soviet Union, Natasha moved to Belarus after the revolution in 1992. Her parents are both Ukrainian and Russian. Now living in San Francisco, she shared why she supported Putin up until he announced his attack on Ukraine. 
"After the 1990's, Russia was living its worst, there were bandits on the streets and everyone was hungry," my friend told me by phone. "When Putin rose to power, he changed Russia to become safer and protected. People began to live and not be afraid – they felt protected. And this is not from the words of strangers, I saw it from my friends and relatives. People started idolizing him. Everyone knew he would protect the borders of Russia, but alas, what he did crossed out all his promises and efforts."
Pain, grief and disappointment
In Natasha's words: "All Russians are experiencing pain, grief and disappointment. This is Putin's war, not Russia's."
As high school students, we study both World and European History. My mother, Natalie Moraru, lived through this history since she was a child. She lived through the end and fall of the Soviet Union. She immigrated from Chisinau, the capital city of Moldova, to San Francisco, California, in 2003. Now our family resides in Walnut Creek. 
"Nobody expected this tragedy to happen," my mother stated when learning of the first attack. "I felt fear and horror. I was hoping for it to be fake news." My mother is worried that this war can involve Moldova or even worse, lead to World War III. Nothing is certain but peace must prevail.
History unfolds in real time
Hearing Ludmila, Natasha, and my mother speak with a blend of pain and conviction sends a powerful reminder that history unfolds in real time for real people, not just those in history books.
Russian civilians are not the enemy, it is Putin and his failed government that is. People and families from many sides of the war are suffering during this injustice. We as people need to continue to show our solidarity to Ukraine and help to the best of our abilities before this war turns even worse. 
I hope that Putin's war on Ukraine will end with the least number of casualties possible. I am on the side of peace; I do not want any war. This place is my home and this is my narod. No more innocent lives have to be lost for a war that is not justified. 
Mы 3а Mир – We are for peace.