Celebrity comedian and actor who voiced "Remy" becomes regular guest in film class
Students in Introduction to Film have spent three class days with celebrity actor, comedian and screenwriter Patton Oswalt analyzing classic films
Editor's note: On May 19, 2022, this article earned third place in the arts and entertainment category of the countywide Lesher Awards for student newspapers.
Although many might feel they know him through his 2007 Disney hit, few people can say that they have actually spoken to Remy from Ratatouille. Students in one class at Northgate are fortunate enough to have had this chance several times.
Patton Oswalt, the actor who voiced the celebrated rat who becomes a chef in Paris, is now a regular visitor in the Introduction to Film Studies class. He has met with the class in room 56 by Zoom, where all of the students also join Zoom on their chromebooks, to discuss and analyze American cinematography.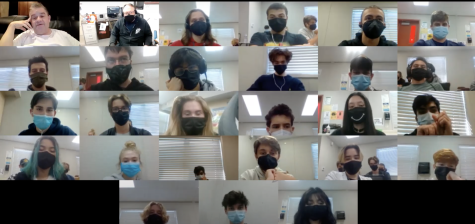 The standup comedian, actor and screenwriter has appeared in or voiced nearly 100 productions including The Secret Life of Walter Mitty, Will and Grace, Modern Family and an array of comedy, family and children's shows. His first television appearance was on Seinfeld, and Oswalt has also earned a Grammy for Best Comedy Album and a Primetime Emmy Award for Outstanding Writing for a Variety Special.
"He's so good at connecting with a room that he made my students feel confident to start talking to him," said film teacher Jeremy Nunes, who organized the celebrity visits.
This opportunity for meeting someone from the world of film began with a book. For his Intro to Film Class, Nunes chose Silver Screen Fiend: Learning About Life From Addiction to Film, which Oswalt wrote in 2015. Nunes explained recently that he believed that it would prove to be a fun and enjoyable class read.
Nunes procured an entire class set of this book through the Donors' Choose funding source for teachers and took a picture of the box of Oswalt's books to follow through with the donor process. He then decided to send the picture to Oswalt's Instagram DM.
"I was seeking a chuckle-worthy moment and didn't expect anything to come out of this," he said.
Ten minutes after clicking send, Nunes received a message from Oswalt. He was curious as to what Nunes was doing with his novel, and after a conversation on Instagram, Oswalt asked for Nunes' email.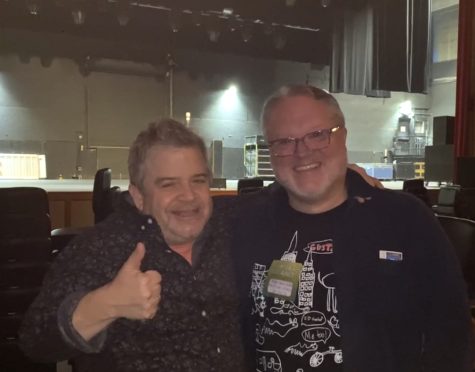 The weekend before Thanksgiving break, Oswalt reached out to Nunes. He said that he had a comedy show that weekend at the Fox Theater in Oakland and he wanted to meet Nunes. He offered Nunes two tickets – and a backstage pass. 
After the show,  Nunes and Oswalt filmed a video to show that their meeting had occurred, wanting to prove to Nunes' film class that they had met. Following a few emails back and forth, Oswalt zoomed into Mr. Nunes' class.
The class has discussed a range of films, which Nunes previews with students before the class meeting date with Oswalt.
They first met with Oswalt Feb. 7 to discuss John Ford's western, The Searchers (1956). On March 1, he joined the class to discuss Bonnie and Clyde (1969), and again on March 9 for The Godfather Part I (1972). The class examines and discusses the movie, open to detailed and informative responses from the viewpoint of someone who is directly involved with Hollywood. 
Junior Ryan Goodfellow says the visits from the celebrity comedian and actor have added even more to an "already great" film class. 
"It was interesting to see the perspective of someone in the industry," Goodfellow said. "It was cool to see how he interpreted something, while we as kids in high school interpret it differently because we just have what we've seen through media such as social media, while Patton Oswalt has a greater knowledge of movies in general."
An English teacher who has developed and taught the film class for the past nine years, Nunes said he is thrilled with the opportunity to spend time with Oswalt. He hopes that from this in-person experience with an actor, his students will understand his class much better. 
"It's not a movie-watching class. It's learning that to become a critical thinker is not to be a passive person," Nunes said.
Other films the class studies in the yearlong course include The Good, Bad and the Ugly(1966), Butch Cassidy and the Sundance Kid (1969), and of course, said Nunes, the cornerstone of the course: Citizen Kane (1941).
"Movies provide us with in-depth explanations of the past, the future, and the world around us," Nunes said. "There are plots, but there are characters. What are the characters doing, are they changing, how are they changing, is it a good change? A good movie is when you have an emotional investment in the characters and what happens to them. You can be critical of them. The class is about one of the greatest art forms, film. It is always changing, always evolving."