San Francisco Giants select Northgate pitcher in 2021 MLB Draft
2018 grad Ian Villers, drafted by Padres out of high school, opted to pitch at Cal after which he was drafted by the SF Giants. Ian Villars shares his experience in an interview with Sentinal Staff Writer Connor Foley.
Seven years after he first pitched on the mound of Northgate's Ted Abbott Field, 2018 grad Ian Villars earned a dream of a lifetime:  seeing his name on television after the San Francisco Giants selected him during the 2021 MLB Draft. 
Standing at 6'5'', 225 pounds, Villers is a star on the mound and has been since he was young. He led his high school team to the NCS Championship and received Division 1 offers to play baseball. He committed to UC Berkeley and broke out in his junior year, catching major league attention in the process. In the ninth round of the 2021 MLB Draft, San Francisco selected Villers. 
In a recent interview, Villers detailed his baseball career, with reflection back on his time at Northgate.
Sentinel: How was your Northgate experience?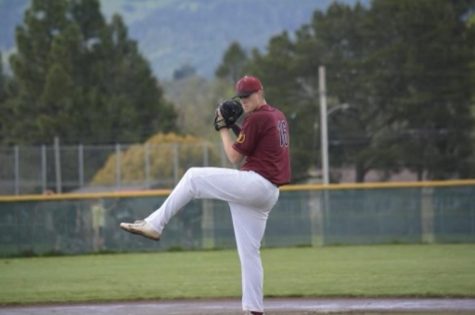 Villers: I loved it man, it was good. I met a lot of good friends and made a lot of good teammates, obviously growing behind them. Tim Jockner was our head coach, Kevin Stanley came in later. They were two great people who were influential in my career. I met many good teachers that I've talked to since leaving Northgate that also enabled me to get into Cal, and I thrived there. I didn't have the best GPA, but I was able to keep up in classes.
Sentinel: What was your favorite memory, and who was your favorite teacher at Northgate?
Villers: I'll start with teachers – I think it's got to be between two: it's either Glen Barker, or Mr. Rogers, I don't want to butcher his first name. My favorite memory? I'd say it had to have been something around the baseball field, anywhere from making it to the NCS Championship to 6 o'clock in the morning, running on Saturdays our freshman or sophomore year. It wasn't our best memory, but it was fun. You know, the highs and lows, there are as many of them on the field as well as in the classroom, so it was a good time.
Sentinel: You were drafted by the San Diego Padres straight out of high school in 2018, but decided to pursue the collegiate route. What factors went into making that decision?
Villers: I just saw the weight of the academic value that Cal held. I'd say it's as simple as that. I think getting that degree is one of the most important things of my life. Even if I get it when I am a little older, I think it's just a huge thing going to Cal, being able to play there, grow, mature on and off the field. I think it was a pretty easy decision looking back at it now. In the moment, it was a little bit harder, but looking back at it now it was the right decision.
Sentinel: What was your favorite moment from your pitching career at Cal?
Villers: I would have to say pitching at some of the big stadiums, such as LSU, or Arkansas, or TCU. We had the blessing to travel across the country, see different places, other conferences, other ways of life. Honestly, I'd say probably pitching in one of the bigger stadiums, as well as places in the PAC-12, like Oregon State in my freshman year when they were pretty hot with Adley Rutschman, as well as many other high draft picks. So pitching in the big atmospheres with many people watching.
Sentinel: When you got the call that you were going to be drafted by the San Francisco Giants in 2021, what emotions were going through your head  and how did you celebrate?
Villers: Oh, I was ecstatic. I think that is the single word that could describe it. I don't think we went out or anything crazy like that, just friends and family celebrating at home.
Sentinel: How has your first full professional year of pitching been going?
Villers: It's good, man. I haven't really done too much, I won't lie. I have been dealing with a lot of injuries this year honestly, so I only got three innings under my belt earlier this year, so right now we are dealing with some injuries and rehab. We just got Tommy John, so we'll be doing this for a little bit during the offseason. Hopefully later in next season we will try to get back on the mound and hopefully get some innings under then.
Sentinel:  Do you plan to go back to college to finish your degree?
Villers: Oh, one hundred percent. Maybe during this rehab on TJ (Tommy John) I'll try and knock some classes out, but I would love to finish that and get my degree done. I think I have maybe two semesters left or maybe three, so just about one year.
Sentinel: What do you think you will be studying?
Villers: Honestly, when I go back, I kind of want to change it. I was pursuing legal studies, no clue what kind of law I wanted to do, so I was kind of going in blind and now that I am a little bit older, I kind of want to go back and maybe pursue real estate, or something like that.
Sentinel: And was it a really hard decision to make? Or did you know immediately that you wanted to go back to college?
Villers: I haven't decided yet. I want to, but I won't say that I have completely made that decision yet, but I plan to pursue college and get that degree.
Sentinel: Do you have any advice for current Northgate students?
Villers: I'd say enjoy where you're at. Looking back on it now, the moments that I thought were really big were actually really small. So, really worry about the future, don't really worry about the past, because I only talk to a handful of the people that I thought were going to be in my life. I thought that it was going to be me wanting to go to high school reunion and things like that, but honestly looking back now I only talk to maybe three, four, five people from Northgate, and nothing wrong with that, but what I'm saying is: enjoy the time that you're there, don't worry about the little things, don't stress about the classes. Y'know, no matter what college you're going to, it's a blessing if you're going to one. So, if it's a Juco (Junior College) route, and you take a little more time to get onto your feet in life, that's perfectly fine. Just really enjoy where you're at, and make sure you're happy.
Sentinel: How was your time in journalism at Northgate?
Villers: I loved it, man. I did it for two years and honestly getting the opportunity to go interview people during class, and hear the stories of other students and peers in my grade class as well as a grade class above me was a lot of fun. I think I did it in my junior and senior year. So I definitely got to hear a bunch of different stories from athletes as well as just people around us, so it was nice. I really like writing as well. I wouldn't say writing is my strong suit, but while I was at Cal I enjoyed writing a paper more than I enjoyed taking a test.
Sentinel: Is there anything else that you might want to add?
Villers: I'd just really really emphasize on the fact that, don't stress about the little things – life is going to come how it is. And I will say, life sucks, life hits you hard many times and you have to make some really tough decisions for yourself as well as for other people, so I would say don't internalize stress so much. Be open to talking to people and going to therapists and mentors and whatever else you need, because life is hard. So just take everything with a grain of salt and you'll get through it.