The 2022-2023 school year introduces a new vice principal
The 2022-2023 school year has a lot in store under the leadership of Tucker Farrar, the new vice principal, who has many new plans for the school. 
Farrar joins Principal Kelly Cooper and Vice Principal Tyler Rosecrans to round out the administrative team. 
He is not actually new to the school, however – in previous years at Northgate, he worked as a math teacher, teaching geometry and algebra for nine years. Teaching is his passion, and he readily admits he loves the subject.
His previous position at Dean of Students position is similar to that of a vice principal. However, the Dean of Students mainly focuses on students and assists them. At the time, there were two vice principals and one Dean of Students. His position was eliminated when the number of students fell below a specific number, and the district initiated this.
Farrar's educational journey progressed to Cal High in San Ramon as an assistant principal. Now three years later, after the departure of Vice Principal Kara Ravina, he is back. 
Farrar believes that Northgate is unique and greatly different from other schools. 
"Northgate has an ambiance around it, one that cannot be matched," he said. "Some tangibles are very real such as the rallies, and the athletic spirit. There are intangibles such as the attitude of students and how students love being at the school. Teachers enjoy teaching; many have been at this school for years. Ms. Cooper is doing a wonderful job as a school leader and I knew that this is where I wanted to be."
In his last few years at Northgate, Farrar also worked as a TOSA, or Teacher On Special Assignment. His day would consist of solving math equations and helping teachers combine technology with education. This resulted in Northgate establishing TVs on which teachers can now project their work, replacing the old projectors that were being used. 
Farrar is a Northgate resident and is a vital part of the Northgate community. He is also a prominent member of a swimming club at Rancho San Miguel. His three children have swam there for the past ten years.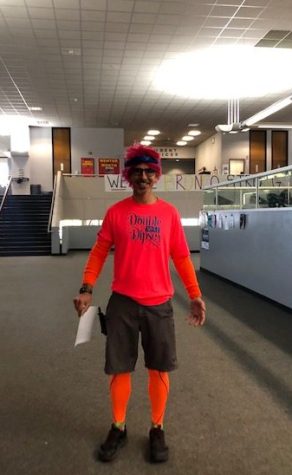 Another inspiring aspect of Farrar's life is the summer camp that he used to run for disadvantaged children from the ages of eight to eighteen. The program was a year-long but the highlight was the summer. For one whole workweek, the children would go away to a camp. There, they would swim, cook on an open fire, build teepees, and more. 
Through his connections, Farrar has built many personal relationships in the community. He recalled seeing many familiar faces from the community on back-to-school night. "It was really fun. They were gracious and complimentary, encouraging me, saying 'Welcome back'. It made me feel really good, I felt as if I was part of a community," Farrar stated.
When discussing the Northgate community, Farrar reflected that "it's great to be able to live and work and serve in the community where you live, it has a special significance to it."
Students who have met him say he is a great addition to the school. "Mr. Farrar never fails to dress up on spirit days and he creates personal relationships that help students connect with him," said sophomore Olivia Walson, a Leadership student. "His positive attitude is visible throughout the entire school.