Northgate had the privilege of hosting United States Congressman Rep. Mark DeSaulnier for a "town hall" style meeting where talked with seniors about what has been happening in Washington, D.C. and the legislation the students created and proposed.
DeSaulnier was invited to speak on April 12 in the Lecture Hall to about 100 AP U.S Government students, who earlier in the year were among nearly 400 Northgate seniors who wrote, edited, proposed and voted on student legislation as part of the school's Mock Congress project.
DeSaulnier has represented the 10th congressional district, which includes Walnut Creek and most of central Contra Costa County, since 2015. Here to visit with constituents on a break from Washington, D.C., he had the task of overlooking the student-created bills and legislation approved in their December simulated Senate experience and answering various questions ranging from gun control to his back story and personal connection to politics. 
He shared information about himself as a person, and his path into politics. He did not pay much attention to politics as a younger man. As he got older and moved from New England to California, he began getting himself involved. 
Originally a Concord restaurant owner, his father had been a politician. DeSaulnier started as a Concord City Council member, then earned a seat on the Contra Costa Board of Supervisors. Then he ran for the California state legislature where he served two years as a member of the state assembly and seven years as a state senator. He won a seat in Congress in 2015, and he is a Democrat. 
DeSaulnier shared some personal experiences that he was affected by, including his experience of the Jan. 6, 2021 riots at the U.S. Capitol as well as his fight against cancer, which showed his resilient nature. He was extremely open to answering questions, as he took his opinions and experiences in depth and resonated with his audience.
Senior Aydin Gulle said after the meeting that he was pleased DeSaulnier responded so directly to student questions on issues such as efforts in Congress to address violence and the debate over gun control. "He answered student questions in detail by providing his own views and also information, and he backed his positions with facts and evidence," Gulle said.
Government teacher Jim Rogers, who organized the meeting, said he was proud that students were able to share their hard work of drafting and passing simulated legislation and pleased that DeSaulnier allotted so much time to come to Northgate and to meet with high school students.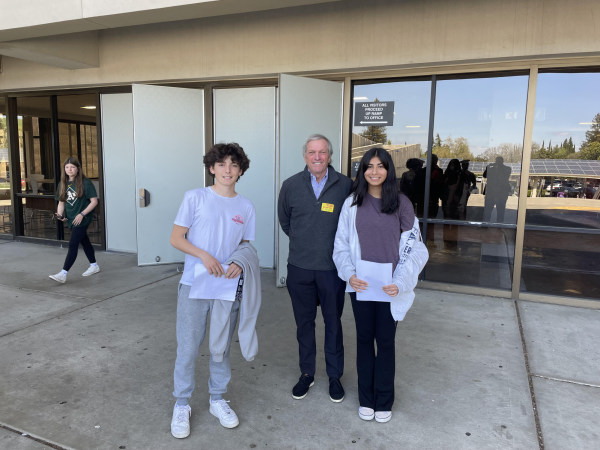 Rogers also arranged for staff members of the Sentinel to have an exclusive interview with DeSaulnier after his meeting with the seniors. Here is what he shared:
The Sentinel: What are one or two of the more important issues for you in representing your district? What are you striving for in terms of helping the residents of this district?
DeSaulnier: "Quality of life issues which involve that of transportation. How we feel about transportation, how we make it more efficient, and education and mental health."
The Sentinel: Was the thought of being a politician always a thought of yours or did it just gradually occur?
DeSaulnier: "When my dad was a politician I hated politics… I was sent to a boarding school in Massachusetts run by Jesuits and a Jesuit college and they talked about service to others and it didn't have to be in politics it was just a way there and live your own life but you also have a responsibility to serve others"
The Sentinel: Do you think young people should be involved in politics and their community?
DeSaulnier: "Absolutely, because that is how you learn and perfect the craft of citizenship, get better you could say. The laws that I get to vote on have more of an impact in your life than in mine."
The Sentinel: What else would you like us high schoolers to know today? Any message for teenagers?
DeSaulnier: "Be engaged, be engaged in life."