The far-right of Washington attacks freedom of speech and the press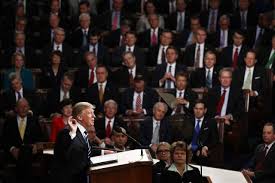 Hang on for a minute...we're trying to find some more stories you might like.
I've noticed a growing trend among civilians and the government that tries to prohibit people and the media from speaking freely. This trend can be summarized as unconstitutional and outrageous, but I prefer to call it the "Trump Effect".
The "Trump Effect" all began at the start of his campaign when he brought up the term "fake news." He didn't mean the clickbait that flash brightly on web-pages. He meant news that doesn't line up with his ideology of putting other issues to the back so his orange face can blaze across TV screens 24 hours a day.
For example, Casey Neistat, a YouTuber who now produces content for CNN, was at the Inauguration and in his YouTube video covering the event a Trump supporter said outright, "you are fake news." How is a well-respected global news source "fake news?" The organization reports stories with actual facts. Sure, every news channel has some sort of bias, but saying a news outlet is not ethical because there isn't enough of the Trump rhetoric aired or printed is uncalled for.
If there's one place spreading "fake news", it's the Trump-occupied White House. Kellyanne Conway, counselor to Trump, went on CNN and made up a terrorist attack, calling it "the Bowling Green Massacre." Clearly, the ethics of the executive branch have sunk so low that Conway made up a story in order to justify another one of his outrageously unconstitutional actions. That, alongside Steve Bannon, a key member of the radical far-right, told the press to "shut up", showing how clear the current presidential administration wants the public to know very little truth and only the information Trump mouthpieces make out to be "making America great again."
Aside from the attacks of the press, there has been a lot more silencing of liberal voices by conservatives in Washington, and I must say I am disgusted by the low ethics displayed by the law-making bodies. On Feb. 7, Senator Elizabeth Warren gave a speech from a letter written by Coretta Scott King that highlighted how Attorney General Jeff Sessions nominee disenfranchised elderly African-Americans. Instead of being able to finish her speech, Senate Majority Leader Mitch McConnell and in turn the Republican Party interrupted and silenced her on the Senate floor.
With Trump constantly calling people that don't agree with him "liars," it makes it perfectly okay for civilians and those in other government branches, which is not the kind of America I nor you want to live in. The Founding Fathers ensured freedom of speech and the press due to the fact that Americans all have different opinions and people find their news from different sources.
The United States is known globally for the First Amendment, but by preventing free speech and freedom of the press, the government is blurring the lines between an open forum and censorship. Free speech is what gives transparency and opens Americans and the world to the truth. Preventing it further divides people, not bringing them together. What needs to be said needs to be said, no buts.